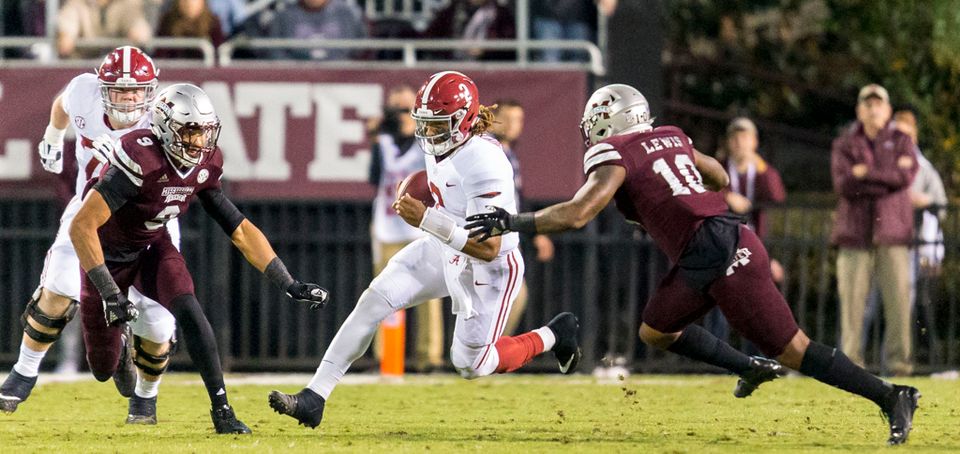 The Alabama Crimson Tide escaped a crazy weekend in college football, which saw top-ranked Georgia and third-ranked Notre Dame take blowout road losses.
Alabama was able to slither its way out of trouble late in Starkville, Miss., when sophomore quarterback Jalen Hurts hit wide receiver DeVonta Smith with 25 seconds remaining for a go-ahead touchdown.
Saturday's action sent shockwaves throughout the college football world and opened the door for some unexpected teams to sneak into the College Football Playoff.
Here are five things we noticed from an upset weekend in college football.
1) Georgia Got Exposed
The Georgia Bulldogs probably wish they never got that big No. 1 target on their backs in the first College Football Playoff rankings.
Kirby Smart's top-ranked squad gave a lukewarm showing against South Carolina in its first test as the nation's top dog and followed it up with a stinker on the road in Auburn, Ala.
The Auburn Tigers blitzed Georgia on the ground with 237 yards rushing as a team and junior running back Kerryon Johnson carried a heavy burden, rushing for 167 yards on 32 carries.
Johnson was successfully able to salt away the game in the fourth quarter as Auburn pulled away for a 40-17 upset victory.
The game was so out of hand, at one point the Auburn defense strutted to the stylings of Yung Joc as Georgia quarterback Jake Fromm went under center.
Auburn fans tonight: pic.twitter.com/jyxNN3Tynv

— Def Pen Sports (@DefPenSports) November 12, 2017
The embarrassing loss calls into question whether Georgia was ever a legitimate challenger for the SEC crown or if it was just feasting on poor SEC East competition.
The Bulldogs are luckily locked into the SEC Championship Game.
But whether it's defending SEC champion Alabama or a rematch with Auburn, we can't be certain Georgia can stay competitive with the bruising rushing attacks each team brings to the table.
There's an upset brewing here as no. 10 Auburn leads no. 1 Georgia 30-7#UGAvsAUB #WarEagle pic.twitter.com/4qDKd1bVYi

— Def Pen Sports (@DefPenSports) November 11, 2017
2) Baker Mayfield is Official
In the ever-changing 2017 Heisman Trophy race, Oklahoma signal caller Baker Mayfield continues to put himself at the top of the race with spectacular passing performances on the biggest stages.
Mayfield's latest show was in primetime Saturday against Big 12 powerhouse TCU.
The senior tossed three touchdown passes and didn't turn the ball over in Oklahoma's rout of No. 6 TCU, 38-20.
Mayfield's brilliance and bravado have lifted Oklahoma into what most likely will be a top-four spot when the new College Football Playoff rankings are unveiled Tuesday.
The Sooners now have wins against three teams ranked in the playoff committee's top 15, which is one of the most impressive resumes in college football.
It's easy to see Mayfield gives Oklahoma its swagger and its confidence each and every week.
Whether he's planting the Oklahoma flag at Ohio State or threatening to spank Baylor like he's their daddy, Mayfield's attitude is unmatched.
With 31 touchdowns and just five interceptions on the season, we're almost guaranteed to see him in New York for the Heisman ceremony.
3) The Pac-12 is Eliminated
The Pac-12's late night games make them pretty impossible to follow for east coast fans and now the Power 5 conference could potentially be out of the College Football Playoffs.
Entering the weekend, one-loss Washington was the only Pac-12 team ranked in the top 10 of the College Football Playoff rankings.
And its non-conference schedule made it difficult to fathom a return trip to the playoffs with two losses on the resume.
Washington killed itself with stalwarts in the non-conference schedule like FCS Montana and Big Ten cellar dweller Rutgers.
It absolutely could not afford another loss but the Huskies couldn't avoid some Pac 12 After Dark magic against Stanford Friday night in Palo Alto, Calif., losing 30-22.
.@Blovee_20 ran for three TDs in Stanford's victory over No. 9 Washington, who had allowed three total rushing TDs all season.#HeismanLove pic.twitter.com/Uvv8BkCCKt

— Stanford Football (@StanfordFball) November 12, 2017
The Cardinal came to play and Heisman hopeful Bryce Love stacked up 166 more rushing yards to add to his stunning total of 1,622 yards for the season.
Despite Stanford's late-season surge into a first-place tie in the Pac-12 North, every Pac-12 team has at least two losses and likely won't be able to make up any ground on the country's elite football programs.
You can still catch the Pac-12 champion in the New Year's Six, but it's unlikely this Power 5 conference will have a chance at competing for a national title.
4) The SEC Should Get One CFP Selection
Despite Alabama powering through its toughest test of the season successfully, the SEC remains poised to receive a single bid in the College Football Playoff.
The mighty Crimson Tide finally looked mortal and quarterback Jalen Hurts looked quite mediocre throughout most of Alabama's 31-24 victory on the road against Mississippi State.
But Alabama's heart of a champion showed it would likely defeat a Georgia team that has shown it isn't ready for the spotlight of being the hunted team in the SEC.
The game-winner! Jalen Hurts hits Devonta Smith for a 26-yard TD with 25 seconds left pic.twitter.com/3YDCI6L61J

— Grace Remington WVTM (@GraceWVTM13) November 12, 2017
An Alabama loss in the conference title game could throw a monkey wrench into the process, forcing the playoff committee to decide if it would leave out a one-loss Alabama team in favor of one-loss or two-loss conference champions.
Some people have joined "Team Chaos" on College Football Twitter due to this season's eerie similarity to the madness of 2007.
But I'm sure no one wants to see two SEC teams play for a national title again, especially in this weakened version of the conference.
If the Tide rolls, we'll see the SEC as a single-bid league.
5) Should The Big Ten Champ Get In?
The big question across the college football landscape appears to be if the Big Ten champion will be able to find its way into the College Football Playoff.
Undefeated Wisconsin has been lingering towards the bottom of the playoff committee's top 10 and with good reason.
The Badgers' best win came Saturday against now-four-loss Iowa in a game where quarterback Alex Hornibrook threw two pick-sixes.
Wisconsin has a chance to add to its resume against Michigan in its next showdown and potentially could face a talented and highly ranked Ohio State team in the Big Ten Championship Game on Dec. 2.
The latest AP Poll has Ohio State at No. 8 and Wisconsin at No. 5, but neither team has fared well in the playoff committee's rankings.
The Buckeyes have taken a lot of national backlash after their disappointing 31-point loss to Iowa, but they came back Saturday and put a hurting on Big Ten East contender Michigan State, 48-3.
Stop us if you've heard this before.

Mike Weber Jr finds a seam and he is gone (again)! #GoBuckspic.twitter.com/UdzVgTDCso

— Def Pen Sports (@DefPenSports) November 11, 2017
A two-loss Ohio State or undefeated Wisconsin would be hard to keep out of the College Football Playoff even if Miami and Clemson both finish out the season with one loss or fewer.
Notre Dame's loss to Miami makes it almost inevitable we'll see four conference champions in the College Football Playoff this season.