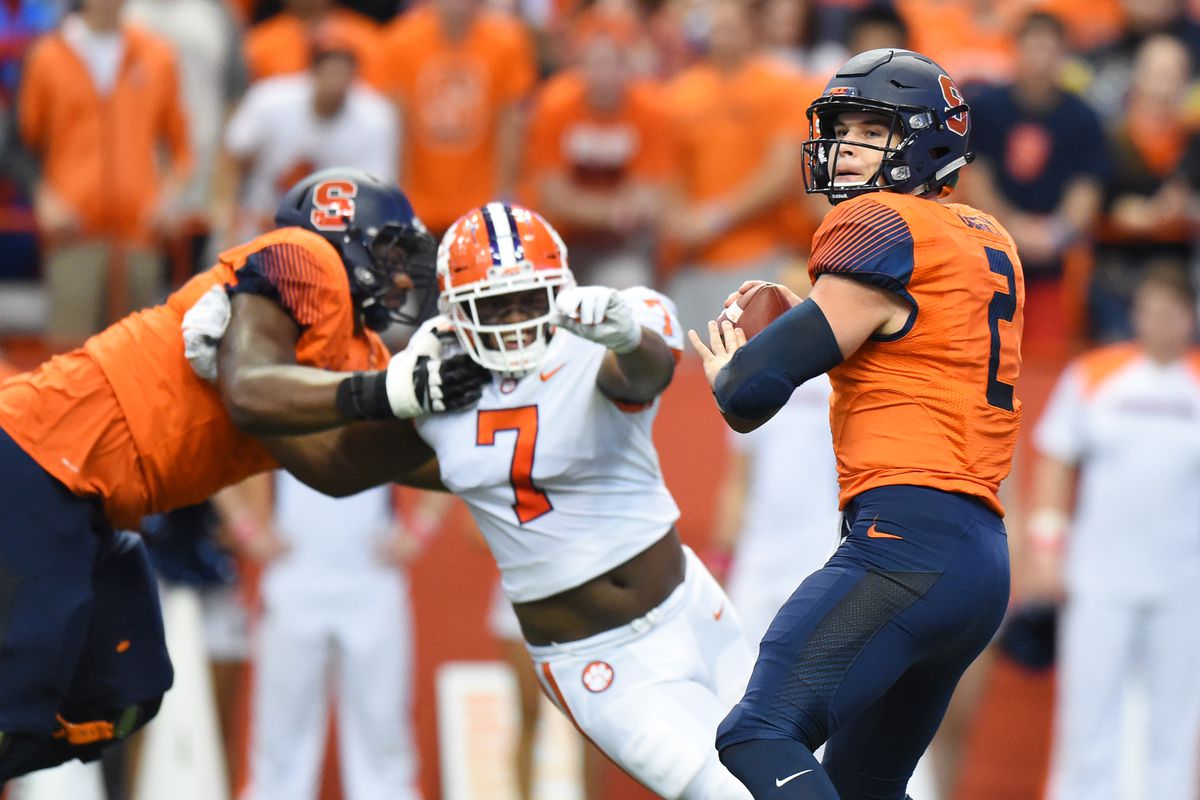 While the majority of action usually falls on Saturdays, college football was set on fire Friday night as the defending national champion Clemson Tigers fell, 27-24, to Syracuse on the road.
The stunning Clemson loss set off a domino effect throughout the remainder of the weekend as four top-10 teams in total suffered crushing defeats.
Questions remain about the health of Clemson quarterback Kelly Bryant after suffering a nasty concussion, and the Tigers could be out of the playoff picture with another stumble.
Here are five observations about the College Football Playoff picture moving forward.
1) Clemson Tigers are not The ACC Favorite
Stop the presses. Clemson is not the favorite to win the ACC anymore.
The Miami Hurricanes have the momentum and schedule in their favor to make a run to Charlotte, N.C., for the ACC title game.
The Hurricanes' final two ranked opponents — No. 14 Virgina Tech and No. 13 Notre Dame — have to travel to Miami to face their stifling defense, which is second in the ACC in scoring defense (18.5 ppg).
Clemson not only has to bounce back from a stunning road loss but the Tigers have to figure out if their stud quarterback will be back on the field and effective anytime soon.
Coach Dabo Swinney said he was going to be cautious with the junior signal caller after suffering a sprained ankle and a concussion in back-to-back weeks. 
Bryant's return becomes even more pivotal with a road matchup against No. 16 NC State looming Nov. 4. and the Clemson secondary looking extremely vulnerable against Dino Babers' Syracuse passing attack.
The Tigers went from a near lock to make a return to the College Football Playoff to fighting for their lives in the ACC championship race.
"The U" is back and Clemson will not have an easy battle if the two programs face off in December.
2) Washington State Lays an Egg in Primetime
A week after Washington coach Chris Petersen complained about late night games in the Pac 12, in-state rival Washington State was beaten on a late Friday night matchup against California in Berkeley, Calif.
The Cougars were curb stomped, 37-3, against a California team that came into the night with a 3-3 record.
Whether or not the late start Friday had an impact was immaterial to Washington State coach Mike Leach.
Leach called his team's performance against the Golden Bears "pathetic" and said there were no bright spots in the Cougars' crushing defeat on national television.
Add this to the great Mike Leach moments!

"We're pathetic!" ????? pic.twitter.com/VEW48aDGic

— '03 Kliff Kingsbury (@fearthe_beard11) October 14, 2017
Leach's words can be harsh at times and he often can ruffle some feathers, but his imprint has already been felt at Washington State.
The Cougars are heading to a bowl game for the third time in Leach's four seasons in Pullman, Wash., and he's clearly not satisfied with simply competing.
The Cougars climbed into the top 10 of the AP Poll before their loss to California, and sadly the bad loss could put them out of reach for a playoff spot.
3) Ohio State vs. Penn State Will Decide a Playoff Spot
The Oct. 28 showdown between Penn State and Ohio State in Columbus, Ohio, is shaping up to be a clash of the titans.
The Buckeyes have been steamrolling teams since their embarrassing home loss to Baker Mayfield and the Oklahoma Sooners.
Fifth-year senior quarterback J.T. Barrett has been on a tear, leading the Buckeyes to a 6-1 record thus far and four consecutive 50-point games on offense.
The veteran received the Davey O'Brien National Quarterback of the Week Award after accounting for seven total touchdowns in Ohio State's 56-14 victory against Nebraska.
Barrett is tied for the nation's lead in touchdown passes with 21 and has thrown just one interception on the season.
Tie own school record with 7? TDs?
Amass 3?7?3? total yds at Nebraska?
Win QB of Week for 2?nd time in the ?? year?https://t.co/sKHm5p6Hk8 pic.twitter.com/miUsd9ZOul

— Davey O'Brien (@daveyobrien) October 17, 2017
While the Buckeyes have been rolling and climbed to No. 6 in the latest AP Poll, the Penn State Nittany Lions moved into the No. 2 spot after Clemson fell Friday night.
The Nittany Lions have allowed a Big Ten-best 9.0 points per game on defense this season, stifling opponents on the ground and through the air.
Penn State faces No. 19 Michigan next at home and even if it stumbles, the Nittany Lions and Buckeyes would be on pace to control their own fates pertaining to the Big Ten championship and a College Football Playoff spot.
If you need to understand the importance of the game just consider that Ohio State has essentially been preparing for Penn State since its coaching staff left the field against Oklahoma.
Terry McLaurin said Ohio State coaches have been preparing for Penn State "for weeks now."

— James Grega Jr. (@JGrega11) October 15, 2017
4) Ed Orgeron May Have Saved His Job
LSU's struggles have been well documented this season, and coach Ed Orgeron has been ripped apart by the national media after some embarrassing losses.
But Orgeron has been able to rally his troops in the last two weeks against SEC rivals Florida and Auburn, which both have coaches who vacation on the hot seat.
The Tigers are back with a 5-2 record and 2-1 in a SEC West dominated by mighty Alabama. T
The most impressive part of LSU's victory against Auburn was the 20-point hole it climbed out of by putting pressure on Auburn quarterback Jarrett Stidham.
The Tigers masterfully used jet-sweep action to draw linebackers out of the box and open up space in the running game. Then, quarterback Danny Etling was able to find his speedy receivers in the open for big plays down the field.
LSU gets a bye week before it plays Alabama Nov. 4 in Tuscaloosa, Ala., and if Orgeron can somehow get his team focused enough to pull the upset, we'll be looking at him in a completely different light than we did just two weeks ago.
5) Arizona's QB is Out of this World
Arizona sophomore quarterback Khalil Tate is college football's hidden gem in 2017.
As we mentioned before, the Pac 12's exposure has been put under a microscope in recent weeks. It's tough for the west-coast based conference to get national TV games and when it does they to fall in the 10:30 p.m. slot on the east coast.
It's tough for the west-coast based conference to get national TV games and when it does they to fall in the 10:30 p.m. slot on the east coast.
But Tate is a player worth watching, especially after you see just one of his dazzling highlights.
If you don't know Khalil Tate, GET FAMILIAR ? pic.twitter.com/tHkZQvrtwt

— AJ King (@allday_ajking) October 15, 2017
Tate's breakout performance Oct. 7 against Colorado exhilarated the crowd as he set the Division 1 FBS record for rushing yards by a quarterback with 327 yards on 14 carries.
It's understandable people were wondering why the 18-year-old wasn't starting from Week 1. But Wildcat coach Rich Rodriguez said his star quarterback was simply outplayed by redshirt junior Brandon Dawkins in camp.
Whatever the case may be, Tate is a name you need to learn for your weekly college football viewing.