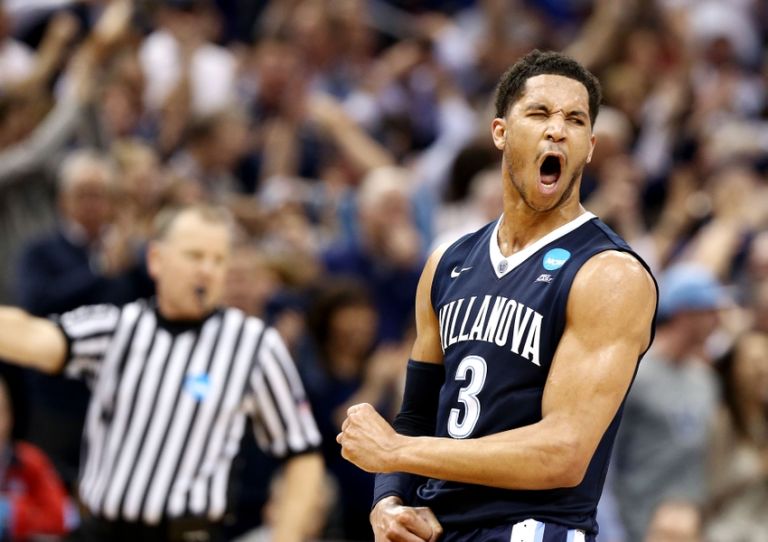 With conference play under way and most teams close to a quarter of the way through, we wanted to take a look at the National Player of Year standings. At the start of the season, Mark and I guessed at who we thought would take home the award and at the halfway point of the season both guys are in the top 5. A few of the top preseason contenders have fallen completely out the top 10 with almost no chance to catch back up while some under-the-radar names have flown up the standings. So let's take a look at midway point top 10.
Top 10 NPOY Standings
1) Josh Hart (Villanova)
19.3pts, 6.7reb, 3.6ast
Josh Hart was somewhat on the radar coming in, he was picked among some analysts to possibly have that Buddy Hield, Denzel Valentine like senior year and Hart has made those few analysts look very smart. He has increased his scoring by four points, doubled his assists and upped his three-point percentage three percent.
2) Frank Mason (Kansas)
20.5pts, 4.4reb, 5.5ast
Mason is another senior who has put together an outstanding final year and is nipping at Hart's heals after consecutive mediocre performances from Hart. Mason meanwhile was hard to keep out of the number one spot after back to back 25+ performances and including 18 in the second half on the road vs Oklahoma Tuesday night while willing Kansas to victory.
3) Caleb Swanigan (Purdue)
18.2pts, 12.6reb, 2.7ast
"Biggie" Swanigan as he has become known is putting the type of season together with some thought he may have a chance to as a freshman. With A.J Hammons gone Swanigan has stepped in and dominated even posting a few 20 rebound games. Swanigan has made himself the front-runner for Big Ten Player of the Year and jumped into the top 3 in the national race.
4) Lonzo Ball (UCLA)
14.6pts, 5.5reb, 8.0ast
Lonzo has completely changed UCLA and turned them from a team who missed last year's NCAA tournament to a top 5 team with realistic national title hopes. His passing ability has amazed scouts and analysts and propelled him into the number four spot in the NPOY rankings.
5) Luke Kennard (Duke)
20.2pts, 5.6reb, 2.5ast
The Duke guard in these rankings is the one nobody would have guessed. Kennard has had an outstanding sophomore season, outshining Grayson Allen after many thought he may not even get much playing time this year with all of the talented freshman coming to Durham. Kennard has gotten stronger, more confident, and aggressive all of which has put him in this current position.
6) De'Aaron Fox (Kentucky)
16.5pts, 5.0reb, 6.4ast
Some people might feel Malik Monk might be more deserving of a spot on this list but Fox is the one making Kentucky go. Together they form an electric freshman backcourt but Fox deserves the award love more. He has outrebounded Monk by a significant amount and is among the assists leaders in college basketball. Fox has a triple-double on the year already and is a stat sheet stuffer.
7) Maurice Watson Jr. (Creighton)
13.4pts, 2.7reb, 8.8ast
Watson is leading the nation in assists and is a huge reason why Creighton is a top 10 team. Watson also has engineered Creighton to one of the top Kenpom offenses in terms of efficiency. He was carted off with a knee injury vs Xavier Monday afternoon and was seen on crutches on the bench during the second half. It will be interesting to see how quickly he is able to recover, if at all. If he is done for the year not only is he clearly out of the NPOY race but it will severely diminish Creighton's national title hopes.
8) Jonathan Motley (Baylor)
14.8pts, 9.1reb, 2.2ast
The current #1 team in the country is being led by this big man who may be the most improved big man in the country. Motley combined with improved point guard has Baylor at the top of the AP poll. Although he struggled in Baylor's first loss at West Virginia on Tuesday he has been consistent enough to slide in the back of the top ten.
9) Josh Jackson (Kansas)
15.6pts, 6.7reb, 3.0ast
Josh Jackson came into college as the number one recruit in the country. While his numbers have underwhelmed some it's when you watch Jackson play you get a true appreciation for his game. That is why he fits in at #9 with his teammate Frank Mason stealing some of his votes similar to Malik Monk and De'Aaron Fox.
10) Nigel Williams-Goss (Gonzaga)
15.2pts, 5.8reb and 4.9ast
The Washington transfer has had a strong first season in Spokane for the Zags. Williams-Goss has shown an all-around game and his play at the point guard position has helped make Gonzaga the lone undefeated team in college basketball.