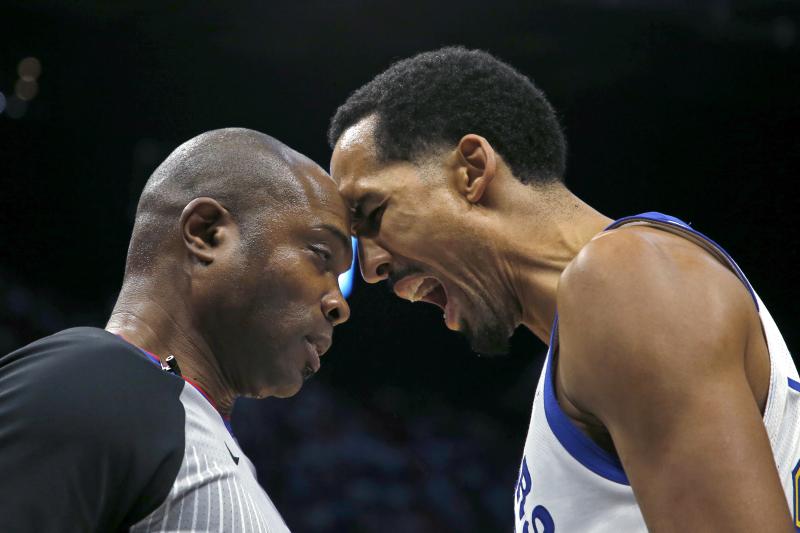 Tension between NBA players and referees has appeared to be building this season. Per ESPN's Adrian Wojnarowski, the players and refs feel the same way and are planning on holding a meeting during All-Star Weekend to talk things over.
It sounds like there's a disconnect somewhere. According to Wojnarowski, one thing that has frustrated players is when referees hold up a hand, "like a stop sign," when they approach a referee. The National Basketball Referees Association claims that their officials are trained to do that. The NBA, however, says that the officials aren't trained to do so.
So, there are conflicting stories here, and tensions have indeed been high, culminating in Golden State Warriors guard Shaun Livingston and referee Courtney Kirkland both receiving suspensions for going chest-to-chest in an altercation mid-game.
National Basketball Players Association Executive Director Michele Roberts and Lee Seham, general counsel for the NBRA, have agreed to hold an "informal" meeting between a "small group of top players and referees to talk directly about the state of referee and player relations." The meeting will be held in Los Angeles during 2018 All-Star Weekend.
Roberts said the following about the forthcoming meeting:
"We need to sit down over a cup of coffee or even a can of beer and get some things off everyone's chests and hear the other side's perspective. We talked about this a couple of years ago. I thought it would be interesting. Now I think it's something that's necessary."
NBA President of Basketball Operations Byron Spruell told ESPN that the league is fine with the two unions meeting:
"If the unions want to talk, I don't have a problem with that. They have their agendas and how they want to deal with things. We want to be part of the conversations too, and we've been doing that with Lee, Michele and David Fogel [of the National Basketball Coaches Association]."