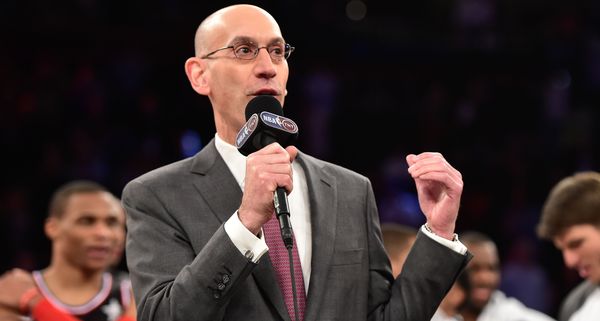 The NBA salary cap grew drastically last offseason, prompting some outrageous contracts. Timogey Mozgov, Luol Deng, and Joakim Noah are three of the many players making more than the worth and this in part is due to the salary cap rising. Today, the NBA announced that the salary cap for next season will be lower than expected, at $99 million.
Teams have been informed the NBA expects the salary cap to go down from latest projections, per league source. $99 million the new number.

— Jay King (@ByJayKing) June 22, 2017
In April, the expectation was that the salary cap would be around $101 million. Last year at around this time rough estimations had the cap at $108 million. While this season's $99 million is still $5 million higher than last season, this announcement comes as a surprise to many teams. The slower-than-expected salary cap growth could hamper several teams who were anticipating clearing room to sign free agents.
The San Antonio Spurs, Cleveland Cavaliers, and Golden State Warriors are just three teams who will be affected most, but seemingly every franchise will feel the effects. The Spurs, for example, planned to resign Pau Gasol to a longer, cheaper contract to create room for a big name like Chris Paul. The new cap number puts that plan at risk slightly. The Cavaliers have the highest payroll in the league by a significant margin and a slew of questionable contracts which, ones that only look slightly more tolerable.
There are a few reasons for the decreased salary cap. The decreased number of playoff games from this most recent postseason can bear most of the blame. Many lopsided series' caused the league to lose money. Despite that, the NBA is undergoing substantial growth on multiple fronts. Television deals have caused the salary cap to grow $36 million in three years, with more on the way. For comparison sake, the salary cap in 2010 was "measly" $58 million. Time sure flies when you're paying Timofey Mozgov $65 million.