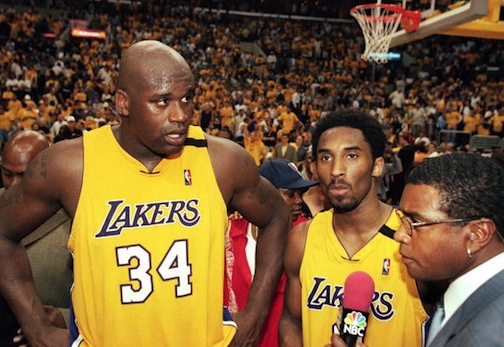 Kobe Bryant, along with LeBron James and Michael Jordan, has arguably the most polarizing career in NBA history. He was the face of the NBA for the 2000's, and is one of the most iconic players of all time. However, opinions on Kobe are very split. Some believe he doesn't belong in the same breath as the two aforementioned legends, while others believe him to be superior. This piece is intended to clear up some of the myths surrounding Kobe Bryant, as well as to give more appreciation to a star who seems to sometimes not get enough credit for his spectacular career.
Myth 1: Kobe Bryant was inefficient
The notion that Kobe is inefficient is completely farcical. This myth stems from Kobe's "low" career FG% of 45%; however, there are several issues with using this as reasoning for Kobe being inefficient.
First, field goal percentage is an inaccurate measure of efficiency to begin with. It only takes into account the amount of shots that go in out of those attempted, not accounting for three pointers or free throw attempts. Efficiency is about maximizing the amount of points a team or player gets in as few of possessions as possible. For this reason, true shooting percentage should be used to determine scoring efficiency. True shooting percentage takes multiple factors into consideration to give a more accurate measure of efficiency.
For example, if a player shoots 5/10 FG, all two pointers and no free throw attempts, the player shoots a good 50% from the field, but is only getting one point per possession used. However, if a player shoots 2/5 FG, but he gets fouled on two more possessions and converts on all of his free throws, he shoots a worse FG%, but scores nine points on just seven possessions. The first player shoots 50% TS, while the second shoots 66.6% TS. Kobe Bryant's prime (2001-10) TS% of 55.9 isn't too far off from Michael Jordan's prime (1988-1998) TS% of 58.2%. It is important to remember Jordan is never considered inefficient.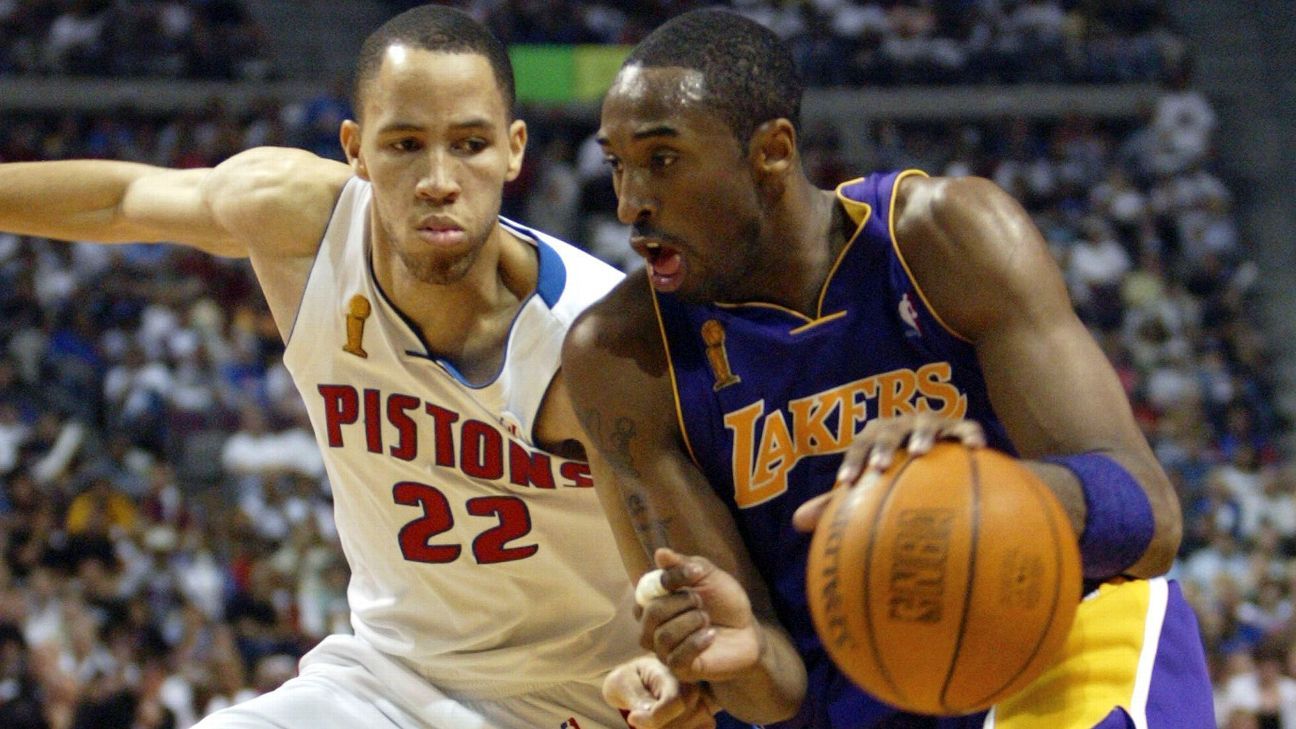 A possession can also be used in the form of turnovers, which is where another interesting tool of determining efficiency comes in. Usage percentage is the amount of possessions a player uses per 100 possessions, be it a field goal attempt, a trip to the line, or a turnover. By dividing this value by a player's points per 100 possessions, we get how many points per possession used a player scores. Kobe Bryant, in his playoff prime (2001-2010), had a 1.129 points per possession, and LeBron James, considered one of the most efficient players ever, has a 1.137 points per possession used. In other words, they are remarkably similar in terms of efficiency.
Another factor that must be taken into consideration is the era Kobe played in. Kobe played four of his prime seasons in the toughest defensive era in NBA history, the 1999-2004 era. These were the last years which permitted any sort of hand checking or defensive three second violations, but had the illegal defense rule removed. As soon as the defensive three second and hand checking rules were implemented at the start of the 2004-05 season, the league average points-per-game rose four points, and the league average ORTG raised by more than three. When looking at LeBron and Kobe's best five year playoff efficiency under the same rules, it gives us a new perspective on the two players. Kobe (2006-2010) averaged 29.8 ppg on 57% TS, while LeBron (2012-2016) averaged 28.0 ppg on 57.3% TS. LeBron is slightly more efficient, but on less volume, so Kobe is actually slightly more efficient.
Lastly, using career stats for anything is misleading. A player like Kobe who played 20 years, with several of them coming off the bench, and several others plagued by injury, will have career stats that don't reflect their production accurately.
Myth 2: Kobe Bryant was a ballhog
One of the main reasons many like to discredit Kobe is for is his selfish nature. With the most missed shots in NBA history, it seems like a reasonable claim to begin with. However, when looking deeper into the picture, this statement becomes another myth.
In his prime (2001-2010), Kobe  Bryant lead the Lakers in assists 8/10 times, and the other two times he was second leader on his team. This not only shows that Kobe was the least selfish of all of the Lakers, for the most part, it is also quite impressive considering the circumstances he played in.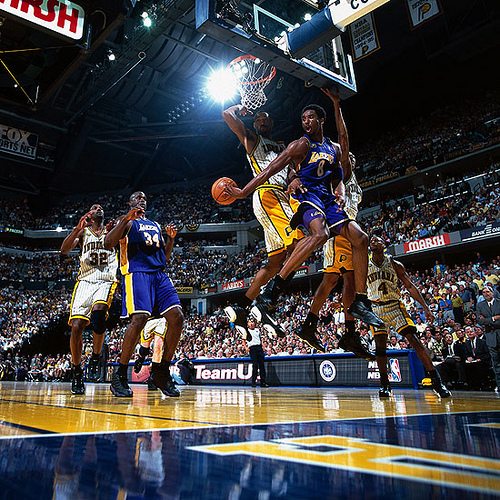 Kobe played most of his career with Phil Jackson's triangle offense, a system which he declared himself as "the equal opportunity offense." To get into the triangle specifically, it becomes even more impressive that Kobe was able to lead the Lakers in assists at all. The triangle typically starts with a low post or pinch post entry, followed by a bevy of other options far too numerous to list all here. However, the player who initiates the play is the post player, who can decide to turn it into a dribble handoff, or pass if he sees a player cut or come off an off ball screen. Once the guard receives the pass, he will usually have a solid look, but the system really flourishes with the extra pass. For example, on a dribble handoff to a guard, it will often suck the defense in, which could yield a kickout to an open player. Since Kobe is a 2 guard, it makes it very impressive for him lead in assists 80% of the time.
As evidence to show the distributed playmaking in the triangle, Rodman, in his only three years with Phil Jackson, had the three highest assist seasons of his career. The same goes for Shaq, as 6/7 of his highest assist seasons came under the triangle. This shows how bigs have a bigger role in distributing as opposed to guards in the triangle. Conversely, Kobe's two highest assist seasons came outside of the triangle, in 2005 and 2013. In these seasons, Kobe was also dealing with injury and other personal and organizational issues.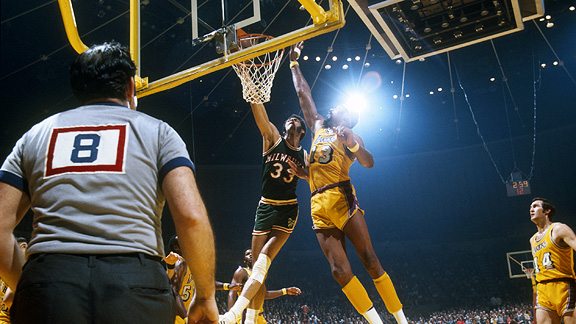 The fact that Kobe has missed more shots than anyone in his career is also completely irrelevant for a few reasons. When looking at the list of most made shots in NBA history, Kobe ranks fifth all time, only behind big men who shoot a higher percentage from the floor anyway, and Michael Jordan, who is, uh, Michael Jordan.
This was already mentioned, but he also was efficient while missing all of those shots, and it clearly was an effective method for winning in his career.
Myth 3: Kobe Bryant gave up on his team in game 7
Kobe's 2005-06 campaign was one for the ages. He dragged a terrible roster to the playoffs with a 45-37 record, and averaged 35-5-5 on 56% TS, the first player to average 35 ppg since Michael Jordan in 1988. Kobe and the Lakers were matched up with the Phoenix Suns in the first round of the playoffs, a very explosive offensive team that would be very tough to overcome for an average at best defensive Lakers squad.
However, it looked like they just might've been able to pull it off. The Lakers went up 3-1 against the Suns, behind some great play from Kobe. Interestingly enough, in the three Laker wins, Kobe was looking to facilitate more. He averaged 6.7 assists in these games, while only taking 18.7 shots a game and 6.7 FTAs, much lower usage than his regular season marks of 27.2 shots and 10.2 FTAs. This unselfishness was very successful for the Lakers, but as they started to blow the lead, something changed.
In game 5, Kobe had a great 29-7-5 on 10/17 FG, but the Lakers got blown out. Knowing his low usage wasn't working in the Lakers' interest, he took it upon himself to carry the scoring load more in game 6, dropping a career playoff high of 50 points, along with 8 rebounds, 5 assists, and 3 steals on 20/35 FG. It nearly worked, as if it weren't for Tim Thomas' three at the end of regulation, the Lakers would have advanced. However, the Lakers lost despite an all time great performance from Kobe.
So now, Kobe Bryant is in a predicament. His low usage wasn't working in game 5, but his high scoring wasn't helping in game 6. However, the Lakers were much closer to victory in game 6, so Kobe went with this approach. He dropped 23 points on 8/13 FG in the first half of game 7, and the Lakers were still down 15. There was only one other option at this point, to try and get his teammates involved, who were already playing terribly at this point. Kobe's teammates shot 8/27 (29%) FG in the first half when Kobe was going off, but he needed to at least try to get his teammates into the game.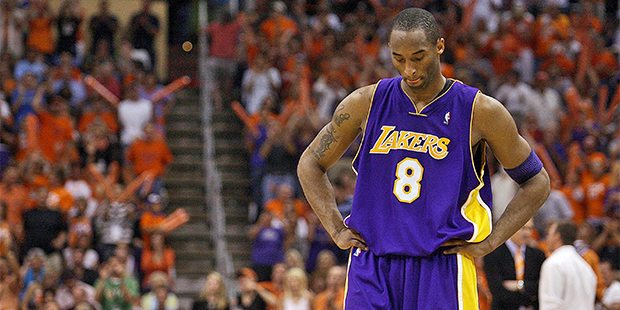 He did just that, and his awful teammates didn't help the cause, shooting 16/46 (35%) FG in the second half. Kobe was in a strange situation. If he's too aggressive, it's not successful. If he's too passive, it's not successful. He tries to hit a medium, it still doesn't work. No matter his decision, shooting 35 times in game 6, or doing his best to get his teammates going in game 7, Kobe was called selfish. What exactly was he supposed to do?
The bottom line is this: Kobe and the Lakers could have won this series had the Lakers maintained their solid defense they had in games 1-4 (allowed 97.5 ppg on 44% FG). With the poor defensive and offensive help he was given in the last three games, it was ultimately impossible to win this series. Kobe didn't give up on his team, he did his best to bring them to a victory, which they were simply incapable of doing.
Myth 4: Kobe Bryant is not clutch
This myth normally comes from one stat that everyone likes to harp on Kobe for. In the final 24 seconds of the game, in shots take the lead, Kobe is a career 36/115 FG (31.3%). This seems to prove the fact that Kobe is indeed not clutch. While this may be a low FG%, this one stat alone cannot possibly prove that Kobe isn't clutch.
Kobe Bryant is always counted on to take the last shot. He actually has the most game winners in NBA history with 36 made. This amount of volume warrants a dip in efficiency. Also, since the plays are always drawn up for Kobe, defenses have gotten to adjust to stopping him for the final shot. Every coach in the NBA of the 2000s constantly raves about Kobe's ability to hit game winning shots, and they game plan ahead knowing he is capable of doing so.
Another point that needs to be considered is that these final second shots are a sign of being clutch, but not the only sign. For example, a player can have 15 fourth quarter points, and the shot to tie the game with 30 seconds left, only to miss the buzzer beating game winner. Is that player not clutch because of that one shot he missed? Or is he clutch because he was fantastic in a close game down the stretch?
Coaches might have been able to game plan to stop a singular shot from Kobe at the end of a game, but they could never stop him consistently in the fourth quarter, where he often played his best basketball (TS% requires a minimum of 50 FGA in playoff fourth quarters).

Pretty terrible, right? Kobe Bryant led the league in points per fourth quarter in the 2002, 2003, and 2008 playoffs. For all of his critics who say he would shot chuck in the late stages of the game and play "hero ball," they were simply incorrect. Granted, Kobe was a high usage isolation player and at times, it was effective. Howeer, he was leading the league in TS% in 2001 and 2002, was second in 2008, and was fifth in 2003.
But fourth quarter stats can be misleading, right? Who knows if he was just putting up numbers in the fourth when the game was already decided? When using the NBA's definition of clutch, the last five minutes of the fourth quarter or overtime, when the score is within five points, we find an interesting result. All stats are per 36 minutes, requiring at least 10 minutes played in clutch situations, and TS% requires a minimum of 15 FGA in clutch situations

So much for Kobe being not being clutch. As the NBA itself defines it, Kobe was one of, if not the most prolific clutch scorers of his generation.
Myth 5: Kobe Bryant was carried by Shaq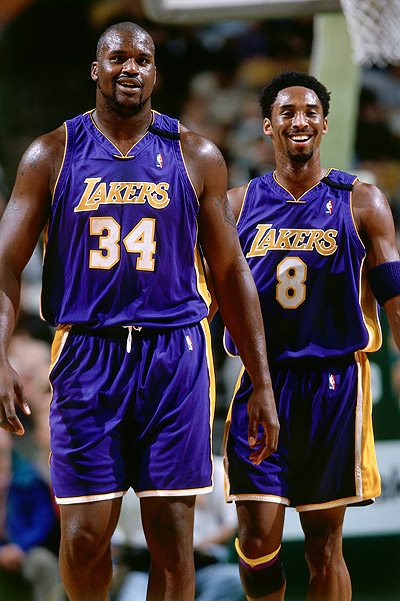 This is the biggest myth surrounding Kobe and one of the biggest misconceptions regarding NBA history. Kobe and Shaq were one of the most polarizing duos in NBA history, winning three straight championships together at the turn of the century. Since this myth is so prevalent today, this section will be the longest, as I will need to go into much more detail on why a statement like this is absolutely ridiculous.
Let's start in the year 2000, when the Lakers won their first championship since the showtime era behind their new big man/little man duo. 1999 and 2000 are the only seasons since Kobe became a full time starter that it was clear that Shaq was still the number one option. Even knowing this, saying that Kobe was carried to a championship this season is an absurd claim.
The Lakers in the first round of the playoffs faced the Sacramento Kings with Chris Webber leading the way. Shaq had a great series, putting up 29-17 on 53% TS. However, Kobe arguably outplayed the Diesel in this series, putting up 28-4-4 on 56% TS. For Kobe to score just eight fewer points than Shaq over the course of three games, but on much better efficiency is quite impressive, and certainly isn't indicative of carrying. Kobe also lead the Lakers in assists, and was the best defender on the team for the series. Shaq, when going against a great big man, had Kobe to shoulder the scoring load, a constant theme throughout the Lakers run until 2004.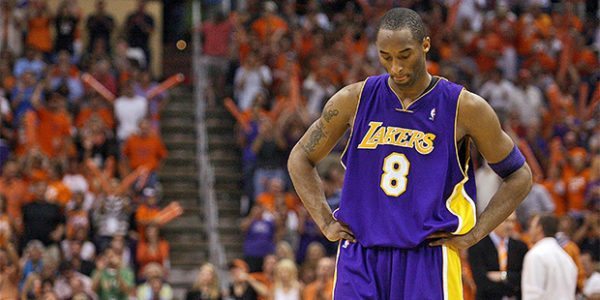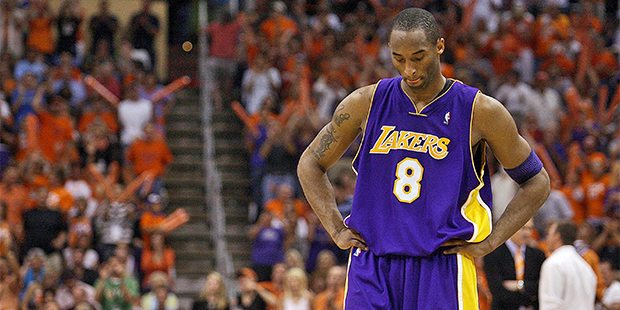 In the Western Conference Finals, the Lakers were down 3-2 going into game 6, and were in need of a big game from the league's MVP. He did not deliver, and this pushed the series to a pivotal seventh game, where the Lakers would prevail. Shaq did not perform well at all in these final two games, while Kobe completely took over on both ends of the court to lead the Lakers to victory. Over the final two games, Shaq averaged 17.5 ppg,10 rpg, 0 apg , 0 spg, .5 bpg on just 49% TS, while Kobe dominated and had 29 ppg 6.5 rpg, 6.5 apg,  2 spg, 3.5, bpg on a much more efficient 57% TS. If Shaq truly did carry Kobe, then the Lakers should not have been able to win, but Kobe stepped up, as he often did this season.
In the 2000 Finals, O'Neal had a fantastic series of 38-17 on 58%TS. Kobe Bryant's box score stats look pretty bad at first glance, with just 16-5-4 on 41% TS for the series, however, this doesn't tell the full story. Kobe got injured nine minutes into game 2 and missed the entirety of the game as well as game 3. When looking at the four games that Kobe played full minutes in, this tells a different story. He was bad in game 5, but other than that, he was great. Kobe absolutely locked down Reggie Miller in game 1, who shot an abysmal 1/16 FG (6.3%). In game four, Kobe took over late when Shaq fouled out, putting up four clutch field goals to propel the Lakers to victory. In game six, he had another great overall game and clinched the series with two clutch free throws with 2.5 seconds left. It's also important to note that the Lakers went 1-1 with Kobe Bryant not playing the full game, but won a pivotal game four without Shaq for the end of the game. Even in the game the Lakers won with Kobe only playing 9 minutes, he scored/assisted on 11 points of a game eventually decided by 7 points.
Kobe Bryant was great in the 2000 championship run, but was still a clear second option behind O'Neal. However, going forward, they were co-first options, and Kobe definitely flourished in his higher usage role. He only averaged 0.2 less ppg than Shaq in the 2001 regular season, and in the postseason, he was a completely different monster.
Kobe averaged 31.6 ppg, 7 rpg, 6.2 apg, 1.6 spg, 0.5 bpg, 3.0 TOppg on 57.7% TS through the first three rounds, where the Lakers would go undefeated, and played the three best teams they faced the whole postseason. They faced the Trail Blazers, who went 50-32 with a 101.8 DRtg in the first round (for reference, the 2017 Spurs had the league's best defense with a 103.5 DRtg). In the second round, the Lakers played the 55-27 Kings with an incredible 99.7 DRtg, good for sixth in the league, and was guarded by a great wing defender in Doug Christie. In the conference finals, the Lakers faced off against the Spurs, with prime Tim Duncan and a suffocating 98.0 DRtg. Kobe absolutely lit up all of these teams, while Shaq averaged 29.3 ppg, 15.3 rpg, 2.5 apg, 0.5 spg,1.9 bpg, 3.4 TOpg on 57.5% TS. So Kobe outscored Shaq while shooting more efficiently, was the superior playmaker (more assists and less turnovers) and defender. All of these teams had great big men (Sabonis/Wallace, Webber/Divac, Duncan/Robinson), and the Lakers as a result ran the offense more through Kobe.
In the Finals, the Lakers played the 76ers lead by MVP Allen Iverson. At first glance, it may appear as though Shaq finally dominated a great big man without needing Kobe Bryant to be the main option, because Dikembe Mutumbo won DPOY this season. However, Mutumbo actually showed to have a negative impact on the Sixers defense. The 76ers allowed 89.6 ppg in games 1-49, before Mutumbo showed up, and 91.3 ppg in the 26 games he played for Philadelphia. Mutumbo was not deserving of the DPOY, and was a below average defender this season, and was never an offensive threat. Even with that being said, he still increased his scoring and efficiency on Shaq, from 11 ppg on 50% FG in the regular season to 17 ppg on 60% FG in the Finals.
Shaq was the better of the two during these Finals, having the luxury of going against a washed up Mutumbo as opposed to defending the MVP of the league, and being guarded Aaron McKie and Raja Bell, as well as the rest of Larry Brown's great structured defense designed to stop slashing guards. However, Kobe still played great in the 2001 Finals. Even with a poor offensive output in game 1, he played great defense on Iverson, who scored most of his 48 against Derek Fisher and Tyronn Lue. He didn't guard Iverson as much in the final four games, but having to guard lesser offensive threats allowed him more freedom on that end, which lead to some great off ball defense. Kobe had a poor offensive Game 1, but was great offensively the rest of the way:
Game 2: 31-8-6-2 on 58% TS
Game 3: 32-6-3-2 on 49% TS
Game 4: 19-10-9 on 52% TS
Game 5: 26-13, 5 blocks on 57% TS
Kobe Bryant was outplayed by Shaq in the 2001 Finals, but he was still great. A strong argument can be made that Kobe was the best player for the Lakers during their 2001 championship run, which for now, remains the most dominant run by a team in NBA playoff history (15-1 record).
Clearly, Kobe was anything but carried in 2001, and it would stay the same for the next three seasons the duo was together. In fact, from 2001-2004, Kobe outplayed Shaq in more series than vice versa.
We already went over the 2001 playoffs, but Kobe also outplayed Shaq in the 2002 WCSF against the Spurs, as Duncan limited Shaq to just 21.7 ppg on 44.7% FG. Shaq had 21-12-3 on 48.7% TS to Kobe's 26-5-5 on 48.6% TS.
In the conference finals, Kobe and Shaq would both come up huge in the final two games to seal their third consecutive Finals appearance. Kobe in particular was spectacular, putting up 31-11-5 on 62% TS in game 6, and followed that up with a 30-10-7 on 49% TS game 7. Kobe's playmaking and defense were again crucial to winning the series. Bryant only had 2 TO over the final two games to go with his 12 assists.
Kobe also outplayed Shaq in all of the Western Conference playoff rounds in 2003 and 2004. The only series Shaq outplayed Kobe in post-2002 was the 2004 Finals, which the Lakers lost in 5 games. Kobe was pretty clearly the best Laker (and arguably best player in the world) in the 2003 and 2004 seasons, and was better than Shaq for the overall championship run in 2001. Shaq was better in 2002, but Kobe was still great for the whole run.
In the 2003 playoffs, Kobe Bryant averaged 32-5-5 on 53% TS to Shaq's 27-15 on 57% TS. Shaq at this point in his career started to slow down a bit due to a toe injury and weight gain, and it was definitely noticeable on the defensive end. Kobe was pretty clearly superior to Shaq in the 2003 playoffs, even if it was a short lived second round exit. However, in 2004, Kobe had one of the most overlooked Finals runs of all time.
2004 was one of the more interesting years in NBA history. It was the toughest defensive year in NBA history by far, leading to the removal any sort of handchecking from the league in an attempt to open up the game more for the appeal of the casual viewer directly after the 2004 playoffs. There is a lot of evidence showing the defenses in the NBA weakening directly after the rule changes.
For example, the league's best regular season defensive team, the San Antonio Spurs, had a nearly incomprehensible 94.1 DRtg, the lowest of any team in the post-merger era. However, the very next season with all of their main pieces still on the team, the Spurs' DRtg jumped to 98.8, yet they still had the best defense in the league. Additionally, the league's TS% average in the 2004 playoffs was just 50%. Compare this to the 56.3% average of the 2017 playoffs, it is clear that the defenses of the NBA in the 2004 playoffs were far superior even with more emphasis on the three point shot.
Knowing this, it should be taken into account that Kobe's numbers are severely deflated in his 2004 Finals run. Another interesting thing to note is that the Lakers played a sub-90 ppg allowed defense in all four rounds, while no other team in NBA history has faced more than two in a playoff run. The Lakers also played two of the three best regular season defenses of all time post-merger (Spurs, Pistons), and arguably the best defense of all time in Detroit, who allowed just 79.7 ppg in their final 35 games after the acquisition of Rasheed Wallace (this includes their entire championship run). In short, the Lakers played unquestionably the toughest defensive competition of any team in any playoff run in history.
To get into Kobe Bryant's performance, he had a great series against the Houston Rockets, posting 24-6-6 on 51% TS. With Shaq (16-11 on 47% TS) and Payton (8 ppg on 43% TS) both struggling on the offensive end, Kobe's (as well as Malone's) play was the driving force behind a first round victory for the Lakers.
The Lakers then played the Spurs, who had the best defensive regular season of any team post-merger. Shaq outplayed Kobe in this round, with 22.5-14.5 on 60% TS, but Kobe still had a great series. He had 26-6-6 on 53% TS, while having one of the best perimeter defenders of all time draped on him for most of the series in Bruce Bowen. Kobe also had one of his most iconic games during this series, while down 2-1 at home, coming to the game straight from the courtroom from his infamous Colorado case. The Mamba finished with a staggering 42 points, the highest scoring game of the playoffs. The Lakers would go on to win the series in six games.
In the Western Conference Finals, Kobe and the Lakers played the Timberwolves, with the reigning MVP Kevin Garnett and a hellacious wing defender in Latrell Sprewell, who hounded Kobe all series long. Kobe didn't guard Sprewell much on the other side, he did have a solid defensive series on various other wings. Kobe still lit up the Wolves (for 2004 playoff standards) with 24-5-6-2 on 52% TS. Shaq had 21-15 on 55% TS, but his nonexistent defense gives Kobe a slight edge on who played better this series, as Karl Malone did a fantastic job on Kevin Garnett for the most part while Shaq got destroyed by Garnett when he did guard him, and was a poor rim protector.
Kobe did have a poor Finals on the offensive end, as Shaq definitely outplayed him. However, when looking back at the entire 2000-2004 era with Kobe and Shaq, it is clear that Kobe Bryantwas not carried, and was arguably more valuable than the Diesel in the 2001 title run and the 2004 Finals run.