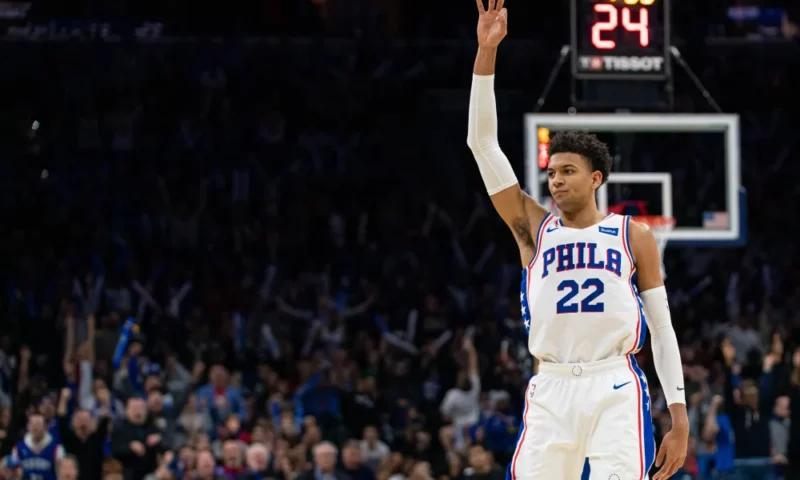 Matisse Thybulle will not be allowed to play Thursday night against the Toronto Raptors and the speculation is he remains unvaccinated against COVID-19. Thybulle has not publically stated if he is vaccinated or not and the Philadephia 76ers declined to comment if all of their players are vaccinated or not. Canadian and Toronto law will not allow unvaccinated players to play against the Raptors in their home games. Unless the standings change in the last few games the 76ers would face off against the Toronto Raptors in the first round of the 2022 NBA Playoffs.
Doc Rivers on Matisse Thybulle being ineligible to play in Toronto tonight: "It's one game tonight. We'll go from there."

On the possibility that this could be an issue in a playoff series: "We don't know who we're playing yet, so we'll just handle that when it comes."

— Gina Mizell (@ginamizell) April 7, 2022
Matisse Thybulle is a vital part of the Philadelphia 76ers' roster and is easily regarded as their best wing defender. Not having him for up to three road games in the NBA Playoffs against a team full of versatile wings is not an ideal scenario. Philadelphia and Toronto are currently the fourth and fifth seeds in the Eastern Conference Standings.
Matisse Thybulle is ineligible to play in Sixers game in Toronto tomorrow night

So that answers that question. Sixers would be without him for road games in the playoffs if they faced the Raptors

Sixers right now would face Toronto in the playoffs pic.twitter.com/sD9zt68f6F

— John Clark (@JClarkNBCS) April 6, 2022
This season with Philadelphia, Matisse Thybulle is averaging 5.8 points, 2.3 rebounds, and 1.8 steals per game. His defense would be sorely missed if he is unable to play. The 2022 NBA Playoffs are not set yet, but there is a real possibility the two teams will end up playing each other in the first round.