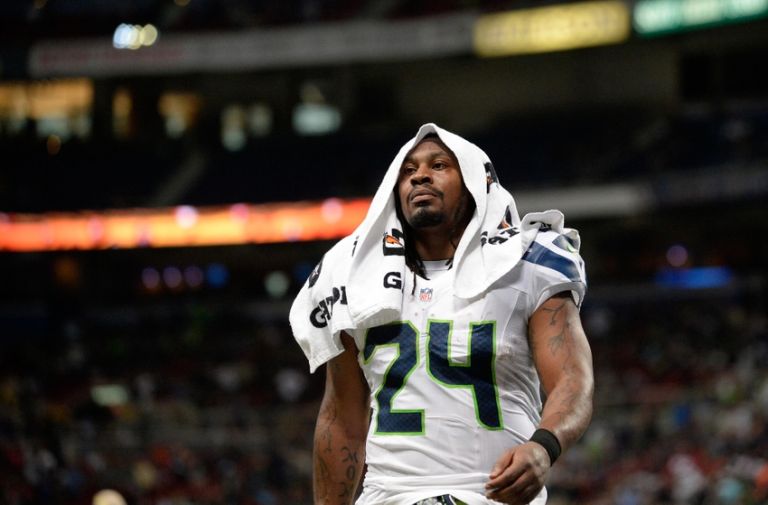 The first time running back Marshawn Lynch retired from the Seattle Seahawks, it was widely accepted that it was more of a break than an actual retirement. Lynch would indeed eventually return to the NFL, only in an Oakland Raiders uniform. Upon his second retirement, it seemed like the end of Lynch's career had come.
Not so fast.
Marshawn Lynch and the #Seahawks are open to a reunion, and Lynch has told people he plans to travel to Seattle today to discuss it, sources tell me, @MikeGarafolo and @TomPelissero. #BeastMode could be back in Seattle.

— Ian Rapoport (@RapSheet) December 23, 2019
With the 33-year-old's former team (the Seahawks) in the thick of the NFC playoff picture, it looks like Lynch and Seattle may be heading toward a reunion.
With reports that Chris Carson may end up missing the remainder of the year with a hip injury, Seattle is in desperate need of help in the backfield. And, this late in the season, ways to get that help is severely limited. It's past the trade deadline, which means the Seahawks must turn to free agents, practice squads, and/or waivers to add someone. It looks like that someone may end up being Lynch.
Lynch played in six games for the Raiders in 2018 – his second season with the team – before he ended up on injured reserve due to an injury to a muscle in his core. Lynch retired again at the conclusion of the season … or so we thought. With that injury seemingly healed, Lynch may be lining up for another stint in the league.
Coming out of the University of California, Lynch was selected with the 12th overall pick in the 2007 NFL Draft by the Buffalo Bills. He was traded to Seattle in October of 2010 and played with the Seahawks for 12 games to finish the 2010 season and the following five full seasons. He missed the 2015 season after his first retirement, then played in a Raiders uniform for two years.
For his career, Lynch has gained 10,379 yards on 2,441 carries (a 4.3 yards per carry average) and 84 touchdowns. He's also been a bit of a threat to catch the ball out of the backfield, as he has 287 career receptions for 2,214 yards and nine scores.