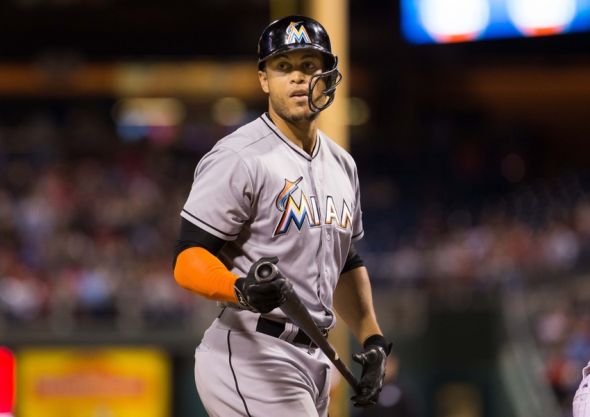 Alex Rodriguez might be 15 years older than Giancarlo Stanton but a recent injury issue might mean that Rodriguez could be Stanton's replacement in the Miami Marlins lineup.
It was determined earlier today that the Miami Marlins could be without their star slugger and 2016 Home run Derby Champion Giancarlo Stanton for the remainder of the season after suffering a groin injury. The Marlins are in contention for a NL wild card spot and losing Stanton could be a death blow to their chances. That's where Alex Rodriguez might fit in.
A-Rod's career with the New York Yankees recently came to an end on Friday just a few days after announcing he would play his final game with the team and then would be released following his final game. It was a move by the team to finish paying his contract and also get his huge money off the books. So yes, technically A-Rod is free agent right now.
In the time following his final game, Rodriguez was not full committed to retiring when asked about his future plans. He was focused on the end of his Yankees tenure. He also stressed the importance of him staying home with his family in Miami. Well, would you look at that. The Marlins are located in his backyard. It seems like a match made in heaven.
Marlins President of Baseball Operations Michael Hill said the following after the team announced Stanton's diagnosis, according to the AP.
The Miami Marlins are in the market for a power hitter to replace injured slugger Giancarlo Stanton, who will likely miss the rest of the regular season. They're discussing whether to reach out to Rodriguez, president of baseball operations Michael Hill said Sunday.

"We're going to look at everything," Hill said. "There has been information out there about his situation. I have no idea what his interest level is to continue playing. He has something set up to move into the Yankees front office; I don't know where his head is on that."

The Marlins are contending for their first playoff berth since 2003. To overcome the loss of Stanton, Hill said, the front office will consider all options – including Rodriguez.

"This team has played too well for too long," Hill said. "We're right in the thick of this thing, and we're going to do everything in our power to help in any way we can. If it's him, if it's someone else, we're going to try to find a way to make it happen.

"We're putting together our list of options. He's an available player, so he'll be on that list, and we'll see where it goes."
There's a slim chance Rodriguez could provide the same level of production and stats as Stanton but he can provide excitement and a buzz around the Marlins, something they haven't had since their first game in their new park back in 2012. Plus, bringing A-Rod to the Marlins means two of the top homerun hitters of all-time will be working for the same organization, seeing as Barry Bonds is a hitting coach for Miami.
Stay tuned for more parts of the ongoing Alex Rodriguez saga.