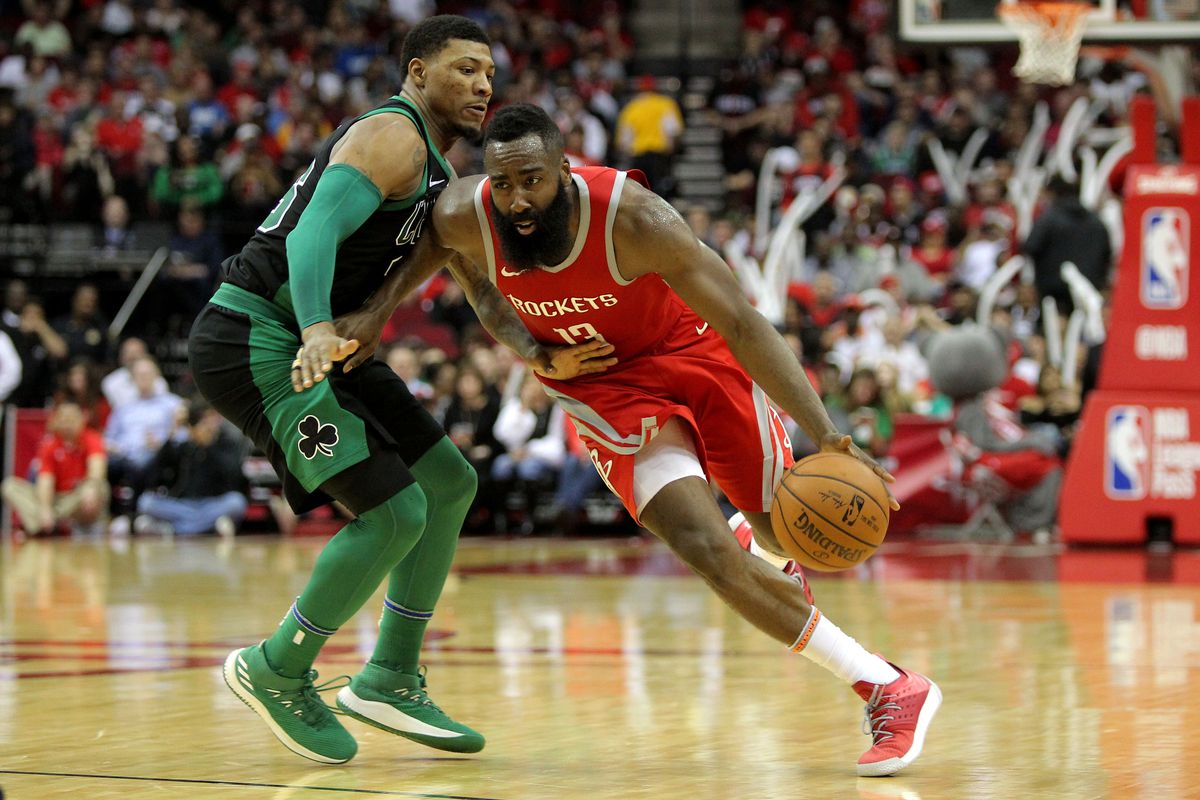 Known as one of the more hard-nosed and relentless competitors in the game, Boston Celtics guard Marcus Smart can sometimes let his emotions get the best of him. Recently, Smart publicly criticized the officiating following a Celtics loss and according to The Vertical's Shams Charania, the NBA will levy down a $15,000 fine as a result.
Boston's Marcus Smart has been fined $15,000 by NBA for public criticism of officiating after Celtics' loss in Houston on Saturday night.

— Shams Charania (@ShamsCharania) March 6, 2018
As specified, the loss came at the hands of the hottest team in the NBA, the Houston Rockets. Of course, the Rockets roster contact-drawing maven James Harden who often frustrates opponents with his ability to get to the free throw line seemingly at will.
While Marcus Smart was often assigned the task of checking Harden, the Oklahoma State product actually did a solid job on him overall though it wasn't enough to avoid a loss. Smart then committed the fineable offense following the game when he openly criticized the refs' officiating, especially pertaining to Harden. Following from Boston Globe's Adam Himmelsbach:
"When you're playing a guy like that who gets those types of calls, it's pretty much like you're playing in foul trouble," Smart told the Globe after the game. "You've got to play really certain. You have to be really solid. You can't really play the defense that you want, because you know nine times out of 10 he's going to get those calls. It doesn't matter whether your hands are up or not. He still gets them. We saw that here tonight a few times, and we've seen that every other game. He has a way of using his hands, grabbing us, pulling us into him and drawing those fouls. He's been doing it for a long time. He gets the benefit of the doubt."
Harden was mostly stymied throughout the evening but was still able to post 26 points, in large part thanks to his 13 free throw attempts. The MVP-frontrunner struggled to the tune of 6-18 from the floor and a paltry 3-12 from three-point range.
Still, Harden's 13 free throw attempts could've been the difference between a loss and a win for both teams, as the Rockets barely escaped with a 123-120 victory. Though this $15,000 fine is likely the last thing he wanted today, his 24th birthday, Smart should be just fine especially with the Houston game being the only loss in Boston's last six outings.