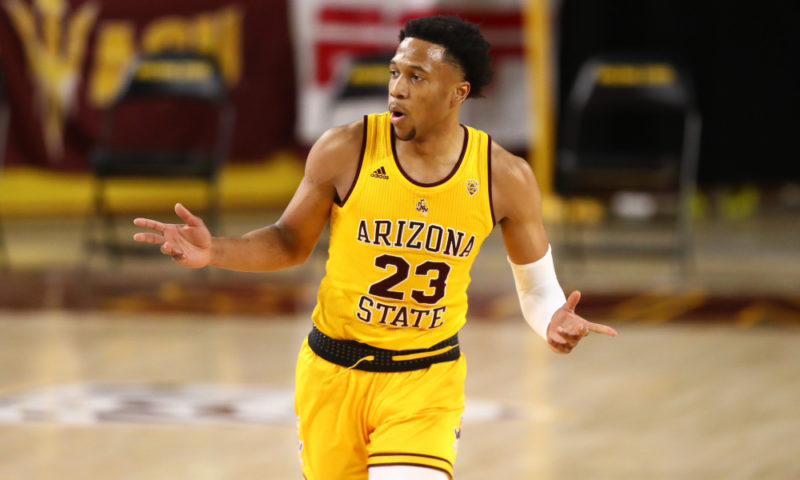 The younger brother of Marvin Bagley III, Marcus Bagley declares for the NBA Draft while also entering the transfer portal. This will allow the Arizona State forward to return to the NCAA, with more options open than Arizona State. Retaining his eligibility through the early draft process will help Bagley make an informed decision without burning the NCAA bridge.
This approach is best suited for players who feel they might be told "one more year" or "come on in we'll take you," whatever it may be. Bagley is talented enough to remain in the draft and drag it out developing in a G League scenario, but that isn't for everyone.
Bagley's father, Marvin Bagley II, told Jonathan Givony of DraftExpress and ESPN about the decision.
Arizona State's Marcus Bagley will enter the NCAA transfer portal, his father Marvin Bagley Jr. told ESPN. "Marcus will continue to work out for NBA teams and attempt to improve his draft status. However, he's entering the NCAA transfer portal to ensure all options are covered."

— Jonathan Givony (@DraftExpress) April 25, 2021
This season as a freshman, Bagley averaged 10.8 points, 6.2 rebounds, and 1.2 assists per game. Unfortunately, he missed more games than he ended up playing thanks to injury. In 12 games he started 11 times and was impressive in those showings, posting two double-double performances in conference play.
Head coach Bobby Hurley congratulated his talented forward on his decision.
I'm so proud of Marcus! He has a limitless future ahead of him. He has the full support of Sun Devil men's basketball as he pursues his NBA dream #LeagueDevil ??? https://t.co/aOxy5YzjBy

— Bobby Hurley (@BobbyHurley11) April 6, 2021
Arizona State will try to rebuild after Joshua Christopher and Bagley leave the program for the NBA or possibly another university in Bagley's case. If he has good performances in the draft process, Bagley could find himself being taken in the late 20s in the first round, or into the early second round if he is willing to do that. Another year could allow him to be a first-round lock, but if he suffers another injury then there aren't going to be many teams wanting to draft him in 2022 either. Time will tell, but chances are he won't be a Sun Devil next season.