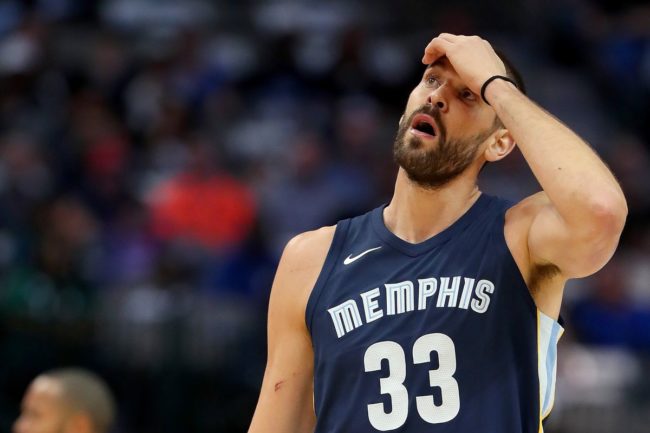 The trade rumors swirling around Memphis Grizzlies center Marc Gasol have seemingly come to an end, but not to the team that most expected.
The Toronto Raptors are set to acquire Gasol from the Grizzlies as they prepare to buff up their roster heading into the playoffs. Toronto will send Jonas Valancuinas, Delon Wright, C.J. Miles, and a future second-round pick to Memphis.
This report comes from Adrian Wojnarowski of ESPN.
Memphis is finalizing a trade to send center Marc Gasol to Toronto, league sources tell ESPN. Details soon.

— Adrian Wojnarowski (@wojespn) February 7, 2019
Toronto is planning to send Jonas Valanciunas, Delon Wright, CJ Milles and a 2024 second-round pick to the the Grizzlies for Gasol, league sources tell ESPN.

— Adrian Wojnarowski (@wojespn) February 7, 2019
Gasol was long thought to be a preferred destination of the Charlotte Hornets and at one point a deal was expected to be done, to the point where Gasol was held out of a game, but it fell apart towards the end and resulted in the trade sending him to Canada.
There were discussions that Gasol could possibly find his way to Toronto, with an initial deal potentially involving both Kyle Lowry and Mike Conley, but the two guards were ultimately left out.
Valancuinas has been battling a thumb injury since the middle of December and the addition of Gasol for Toronto masks that issue. C.J. Miles hasn't been performing up to his usual standards and his playing time has tanked. Delon Wright has shown signs of being a promising lead-guard but has never had an opportunity to truly establish himself in his fourth NBA season.
At 34-years old, Gasol has averaged 15.2 points and 7.7 rebounds per game in 10 years with the Grizzlies.