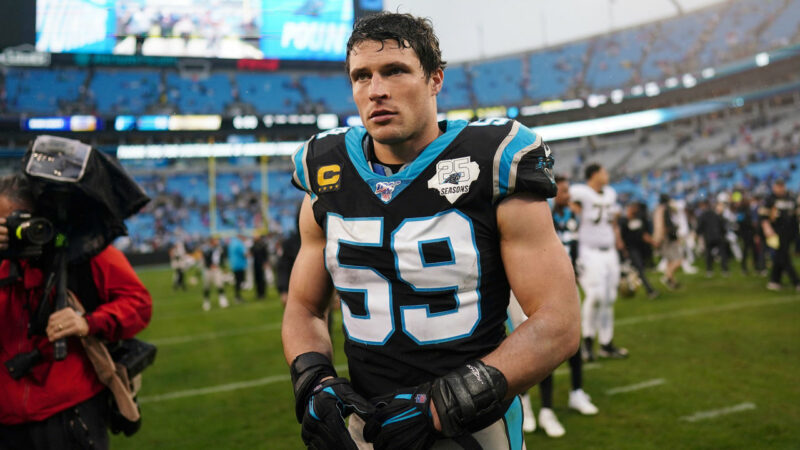 Former star linebacker and fan favorite Luke Kuechly will join the Carolina Panthers' radio broadcast team for the 2022 season. The team reported this and included that he will be in the booth for seven games this year. He will join play-by-play announcer Anish Shroff along with sideline reporter Kristen Balboni, and either Jordan Gross or Jake Delhomme. Kuechly will do six home games and one away game in his hometown of Cincinnati. Carolina Panthers fans love the former NFL linebacker and this has been met with excitement.
So Luke Kuechly is a making a return to the Panthers, joining its radio broadcast team this season. He'll be on the call for seven games this year.

— Jonathan M Alexander (@jonmalexander) June 27, 2022
In a statement released by the Panthers Luke Kuechly had the follow to say about his return to the franchise: "I just love the Panthers; I love being around it; I love the people. I think I want to be attached to the team, and the game, and the organization somehow. I think it could be a lot of fun. I think that's the biggest reason, to do something around the game on game day that's fun. You still get the atmosphere, and all the good memories I have here in Carolina."
Name an early retirement that shocked you.

Luke Kuechly is still only 31 years old ? pic.twitter.com/DCxr56oSLa

— DraftKings (@DraftKings) June 18, 2022
The Panthers linebacker shocked the NFL by retiring while at the top of his career and is still just 31 years old. Luke Kuechly retired as a seven-time pro bowler, a five-time All-Pro, the 2012 defensive rookie of the year, and the 2013 defensive player of the year. Panthers have missed the star linebacker and will get to hear his voice this season on Sundays.