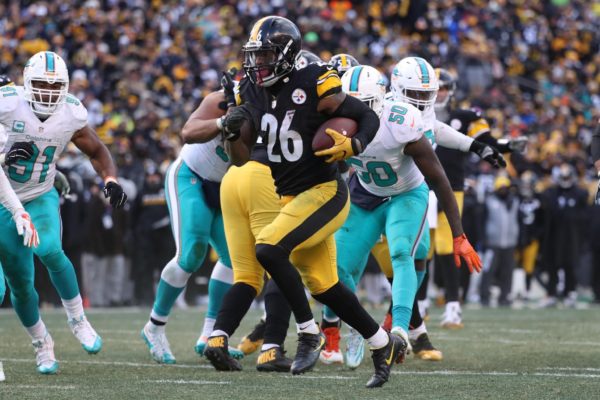 Le'Veon Bell has said that he would consider sit out an entire season or just retire if the Pittsburg Steelers hit him with the franchise tag again.
Le'Veon Bell says he'd consider sitting out 2018 if tagged again by Steelershttps://t.co/b7gqKxCACG pic.twitter.com/7TZ6OWGBCG

— Around The NFL (@AroundTheNFL) January 11, 2018
Bell played the 2017 season on a $12.1 million franchise tag. He had a great season, accumulating over 1,200 yards on 321 carries, earning Bell first-team All-Pro season.
Before practice on Thursday, Bell said, "I hope it doesn't come to that, but I would definitely consider it."
Bell went on to say:
"Just get the numbers straight, exactly where we want them. I'm not going to settle for anything. I know what I do and what I bring to the table. I'm not going out here getting the ball 400 times if I'm not getting what I feel I'm valued at."
It was reported that Bell turned down a long-term contract worth up to $30 million in the first two years. Bell did not feel that the team did not value his talents like he thought they should.
Bell says he is happy with the money he is made and is willing to hang up the cleats if he does get tagged."Right now, I'm just kind of doing it because I love it. Now, I've done everything but own a Super Bowl."
Bell went to Twitter later Thursday to reemphasize this.
I'm trying to win a super bowl…I can care less about what happens after this season…my biggest thing I'm focused on is this team I'm on right now, playing for/with my brothers, & bringing back a 7th ring! what happens next year is irrelevant to my goals

— Le'Veon Bell (@L_Bell26) January 11, 2018
These statements by Bell come at an interesting time. The Steelers are gearing up for their Divisional Playoff game against the Jacksonville Jaguares. The Jaguares defeated the Steelers 30-9, intercepting Ben Roethlisberger 5 times. The two teams will square off This Sunday, with the winner getting a shot at the AFC title.