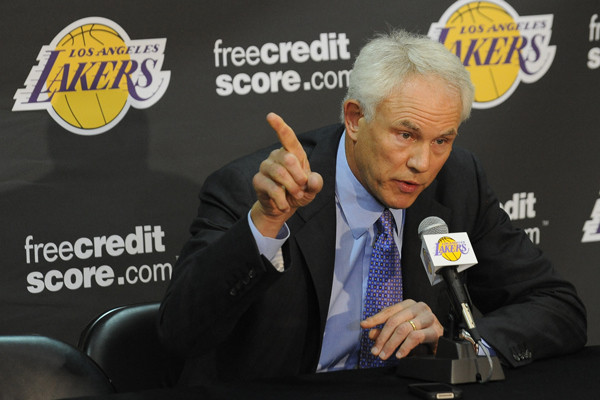 Well, It looks like LaMarcus Aldridge wasn't the only one who walked away unimpressed with the Lakers' first meeting with him to open up free agency. Lakers general manager Mitch Kupchak told reporters Thursday that while he didn't think the team's free agency pitch to LaMarcus Aldridge was as bad as some portrayed, it wasn't great either.
"I don't think the meeting was as bad as people heard it was, nor do I think it was as good as we hoped it would be," Kupchak said. "I would say live and learn."
Kupchak also added,
"It's unrealistic to think in this day and age every time you go into the free agent market, you're going to get exactly who you target. Your roster has a lot to do with your ability to recruit free agents that are established and maybe looking for a team that can win right away. We accomplished the part about how much we wanted this player in Los Angeles, but I don't feel the basketball component of it was covered in depth."
One criticism of the legendary franchise to come out of the failed effort was that the team tried to sell Aldridge on the perks of being a Laker in Los Angeles, as opposed to actual basketball conversation. However what was not mentioned by Kupchak: The belief in some circles that Kobe Bryant's attendance at the first meeting hindered progress.
Kupchak, also added that when he managed to get a second sit-down with Aldridge two days after the initial meeting to discuss more court-related items, was a waste of time.
The second meeting with the Lakers will only involve GM Mitch Kupchak and Coach Byron Scott, & will only be about basketball, per source.

— David Aldridge (@daldridgetnt) July 2, 2015
Aldridge eventually signed with the San Antonio Spurs in a move that really early on felt like a foregone conclusion. Kupchak believes that they will do things differently next year and be a more attractive team, but all of this marked the third straight year in which the Lakers failed to keep or attract special free agent talent, including Dwight Howard in 2013 as well as LeBron James, Carmelo Anthony and Pau Gasol in 2014.