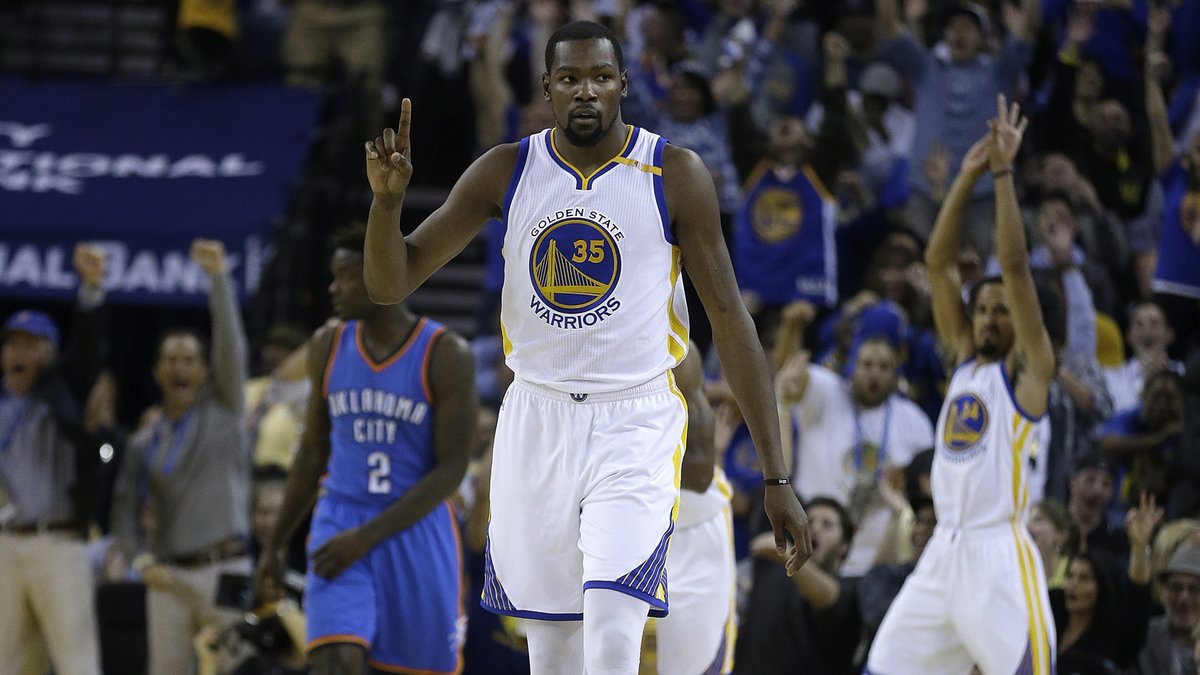 Kevin Durant's first game against the Oklahoma City Thunder with his new super team Golden State Warriors went exactly as most expected. A Dubs win but not without some drama. It started before the game with Russell Westbrook's outfit choice but as the night went on, and the Warriors domination really began, the frustrations mounted.
Early in the game, newly acquired Thunder forward Jerami Grant put down a nasty dunk on Durant. Unfortunately for Grant, this dunk might have sparked Durant's offensive explosion.
KD gets the and-1 bucket and has some choice words for Grant afterwards#DubNation
(via @clippittv) pic.twitter.com/R3KUN787YD

— Def Pen Hoops (@DefPenHoops) November 4, 2016
Following from Anthony V Slater of The Mercury News.
The Thunder burst out to an early double-digit lead, capped off when reserve forward Jerami Grant put a poster dunk on Durant's head and then got in his face.

"Not a good idea," Steve Kerr said. "I think it got him going."

"When you get dunked on like that," Durant shook his head. "As a competitor, you want to come back at him."

Moments later, Durant awoke, closing the final 2:42 of the first quarter with two 3s, a mid-post jumper and an and-1 reverse layup on Grant. After the layup, he landed, turned and yelled at Grant.

"Trash-talking is a part of it," Durant said. "As long as we in between the lines, everything is all good for me. I'm going to go out there and be who I am. Talk to me, I'll talk back. If you start it, I'll finish it…No ill will."
But later on in the game Durant actually started to talk some trash to a member of the Thunder bench. KD was seen audibly jawing with reserve big man, Enes Kanter. The two exchanged some words before Steven Adams shut things down.
Slater has more on this back and forth between Kanter and KD.
Durant got into a late first half shouting match with Enes Kanter, who continually roasted his former teammate on the Internet throughout the summer, including cupcake pictures and insinuations that Durant was a traitor.

It was an awkward moment. Durant didn't interact much with Kanter in Oklahoma City. They only played together a year-and-a-half. But Durant was close to Steven Adams and Andre Roberson — particularly Roberson — who were seated next to Kanter. As Kanter and Durant continued to jaw back and forth, you could sense sadness in Roberson's face. Adams, trying to diffuse the situation, reached over to Kanter to try to tell him to be quiet.

"How many minutes did he play?" Durant asked of Kanter, looking down at the stat sheet. "Three minutes. I'm trying to focus on whoever's on the court. He trying to talk to me from the sideline. But I'm sure he's going to put something on Twitter tonight."
Well, Durant was kind of right. Kaner did put something on twitter but nothing to really do with the game or Kevin. At least, it doesn't appear so.
Okla-HOME ?

— Enes Kanter (@Enes_Kanter) November 4, 2016