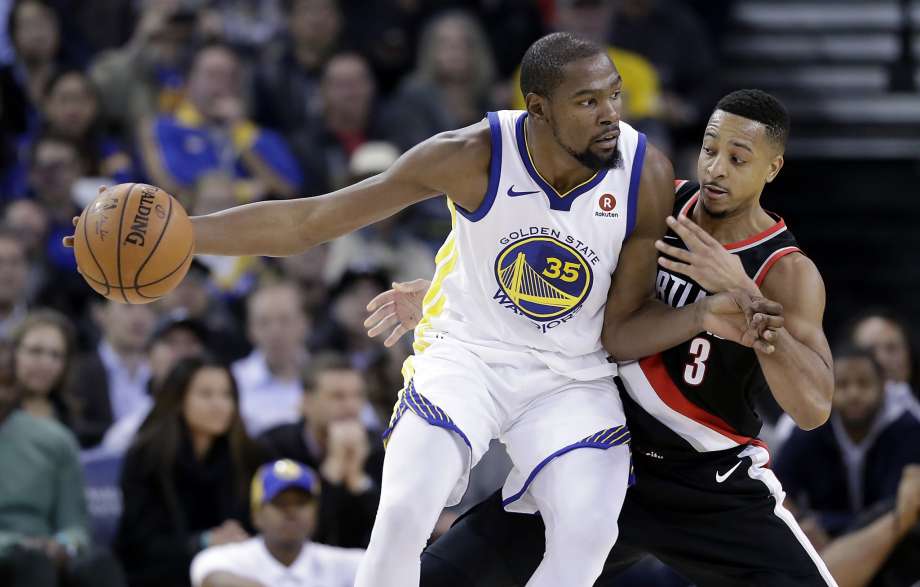 When the Golden State Warriors added yet another supreme talent in DeMarcus Cousins to their star-studded collection of talent, the move sent shockwaves through the NBA that paralleled Kevin Durant's signing years ago.
Portland Trail Blazers guard CJ McCollum invited Durant onto his podcast to discuss Golden State's latest signing and the reasoning behind it. When discussing the move, Durant seemed perplexed as to why McCollum cared about it in the first place, expressing that the Blazers aren't in the position to compete for a championship, whether the Warriors had added Cousins or not (h/t CBS Sports).
Durant: "Why are you mad about this stuff?"

McCollum: "Bro, I'm in the league. What do you mean why am I mad about this stuff? I'm in the Western Conference. I gotta play you MFers all the time anyway as it is, over and over again. We got eliminated by y'all a few times in the first round. So I'm looking at [Cousins] —

Durant: "I mean … you know you guys aren't going to win a championship?"

McCollum: "Bro, we have the team. We have the capabilities. Anything is possible. We can win a championship, bro."
The feud between the two didn't end there, as the jabs continued onto social media. When McCollum addressed the situation again on Twitter calling him soft for the decision he made in 2016, Kevin Durant fired back with a remark of his own.
I still think the b word is harsh and shouldn't be used. . He know that decision was soft but I respect it. It's like getting jumped with ur brothers by a gang you should've beat then joining the gang that jumped u and ur brothers 2 months later & forgetting about your bros https://t.co/BFGqQy1lwR

— CJ McCollum (@CJMcCollum) July 26, 2018
So,I would get into a gang fight, lose, plot on my brother for 2 months in our home and then go get the gang we lost to and beat him up? U think that low of me CJ? I just did your fuckin podcast. Snakes in the grass boy I tell ya ?

— Kevin Durant (@KDTrey5) July 26, 2018
Quite the exchange between two of the more marquee talents in the entire NBA. Though McCollum didn't respond to Durant's tweet, he cleared things up with a separate message, claiming no animosity between the two.
There is no feud y'all gotta chill. It was simply an analogy. I'm done speaking on KD and the warriors bc it's childish of me to do so and soft lol (will be taken out of context). I've always said what I feel but we all know I've never been a ?. Back to the grind pic.twitter.com/93B39bqKTS

— CJ McCollum (@CJMcCollum) July 26, 2018
Unsurprisingly when a spat is engaged in on a platform such as Twitter which has a global audience, Durant was asked about his interaction with McCollum while he was attending Team USA's annual minicamp.
Funny Kevin Durant back-and-forth with a reporter on the CJ McCollum twitter tiff yesterday pic.twitter.com/kgNPLVSYro

— Anthony Slater (@anthonyVslater) July 26, 2018
Things between the Blazers and Warriors could get extra interesting this season if the running tension between Durant and McCollum leaks into the upcoming campaign.