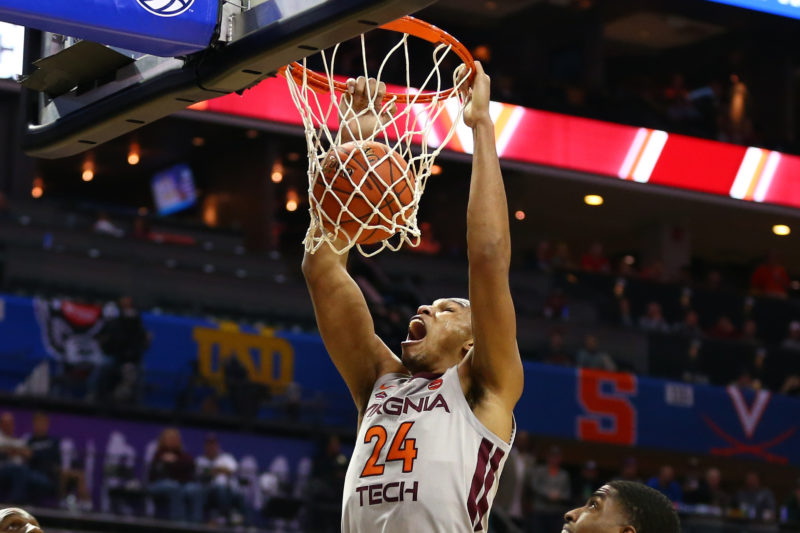 The best grad transfer on the market is going to be spending one last season in the NCAA with the Florida Gators. The decision came after Kerry Blackshear Jr. made visits to Florida, Tennessee, Arkansas, and Kentucky. He also spent some time with the new coaching staff at Virginia Tech in an effort to get him to come back. Blackshear was easily the most coveted graduate transfer on the market this offseason. As a grad transfer, he will play the upcoming season as his final season of eligibility in the NCAA. Jeff Goodman of Stadium broke the news shortly before the official announcement:
Kerry Blackshear, barring a last-minute change of heart, is expected to choose Florida, source told @Stadium. Huge pickup for Mike White and the Gators.

— Jeff Goodman (@GoodmanHoops) June 27, 2019
After testing the NBA Draft waters this offseason, Blackshear decided to not stay in the draft and will play for Coach Mike White's squad at Florida. He is going to immediately be either the best player or second best player on the team this season. Blackshear earned Second Team All-ACC honors while averaging 14.9 points, 7.5 rebounds, and 50.8% shooting from the field. His presence at Florida is going to bring invaluable experience. Playing in the ACC against the likes of Zion Williamson, RJ Barrett, Cam Johnson, and that's only a few NBA lottery picks from THIS season he went up against.
This means that next season's Florida team will include a top-10 freshman recruiting class, and with the addition of Kerry Blackshear Jr., not many teams in the NCAA are bringing in a more talented group of newcomers. Five-Star recruits, Scottie Lewis and Tre Mann should bring some exciting new talent to the Gators. KeVaughn Allen has moved on from the Florida Gators program, but Andrew Nembhard and Keyontae Johnson should bring a wealth of experience and poise. With the addition of Kerry Blackshear Jr., this Florida team may be a top-10 team in the country this season. They will be vying for first in the SEC alongside Kentucky, and the battles between the two programs this season should be awesome! Mike White should be looking at a statement season, solidifying him as the man moving forward for Florida basketball.