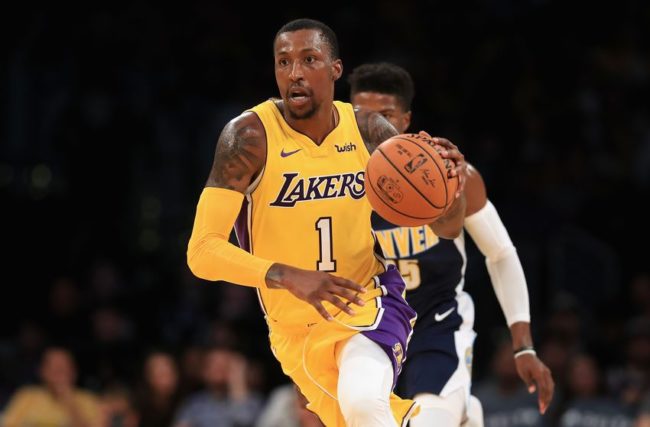 Kentavious Caldwell-Pope has reportedly agreed to a one-year, $12 million contract to stay with the Los Angeles Lakers, according to Chris Haynes of ESPN.
Free agent guard Kentavious Caldwell-Pope has agreed to a deal with the Los Angeles Lakers, league sources tell ESPN.

— Chris Haynes (@ChrisBHaynes) July 2, 2018

Caldwell-Pope signed to the Lakers on a one-year, $18 million contract last summer after betting on himself by declining a five-year, $80 million deal with the Detroit Pistons, but ultimately failing to land a long-term contract elsewhere. This time around, the former Georgia Bulldog will be taking even less money to stay in Los Angeles.
This deal comes conveniently minutes after all-time great LeBron James reportedly agreed to sign with the Lakers, as the team will now be a shoo-in to make the NBA playoffs in the Western Conference.
Caldwell-Pope had a bit of an underwhelming season with the Lakers in 2017-18 after being expected to break out, running into problems with the law throughout the campaign, and missed eight games due to not being able to travel with the team for road games. The three-and-D guard averaged 13.4 points and 5.5 rebounds on 42.6 percent shooting from the field and 38.3 percent from three. With two premier playmakers in Lonzo Ball and the aforementioned James, Caldwell-Pope will likely be relegated to catch-and-shoot opportunities on offense this upcoming season.