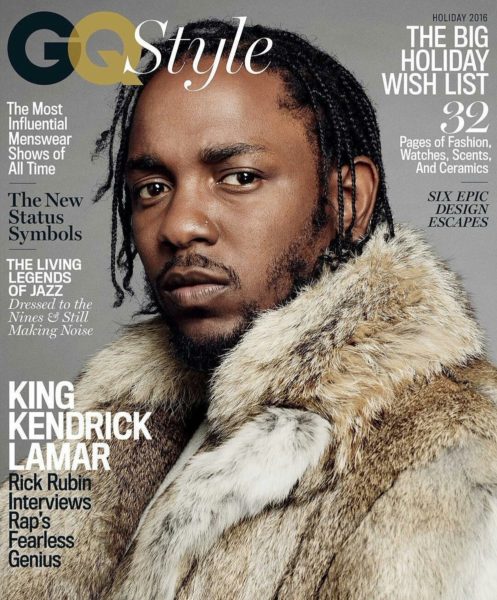 Since the release of his To Pimp A Butterfly album, Kendrick Lamar seems to have took his whole career to new heights and his star power only continues to grow as time goes on. Outside of his Untitled Unmastered release, along with a few guest features and high-profile performances, 2016 has been a rather quiet year for the rapper, musically. Putting part of his focus elsewhere, Kendrick has linked up with GQ Style as the rapper landed the cover of their holiday issue. Even better, the Compton hit-maker was interviewed by Rick Rubin and talked everything from his inspirations, to considering the audience when making his music.
Rick Rubin: What were the inspirations along the way for you—musically, lyrically, or philosophically—that got you to this stage?
Kendrick Lamar: Oh, man. First off would have to be how I was raised. The environment. My father being a complete realist, just in the streets. And my mother being a dreamer. It starts there first, before I even heard any type of melody or lyric. That's just DNA. It's always the yin and the yang, the good versus the evil. And that pushed me toward the music that I love to listen to. You know, Tupac, Biggie, Jay. Your usual suspects. These were the people that was played in my household.

When making music, do you ever consider the audience at all, or is it more just self-expression?
I used to consider the listener. But now I'm in a space where if I'm not inspired, I can't really do the music. I can't feel it. I put in enough hours to be able to pen a hundred-bar verse on the spot at any given moment. But for me to actually feel an idea, it has to come from me. And a lot of times, I have to block out different needs and wants just for my own selfish reasons. But at the end of the day, it comes out where, whether you like it or not, you know it comes from a real place. It's gonna feel unapologetic, uncompromising, and it's gonna feel me.
Showing us once again that there's much more to him that meets our eyes and ears, Kendrick Lamar is a true gift to Hip-Hop. You can check out the full interview, here, and footage, below.