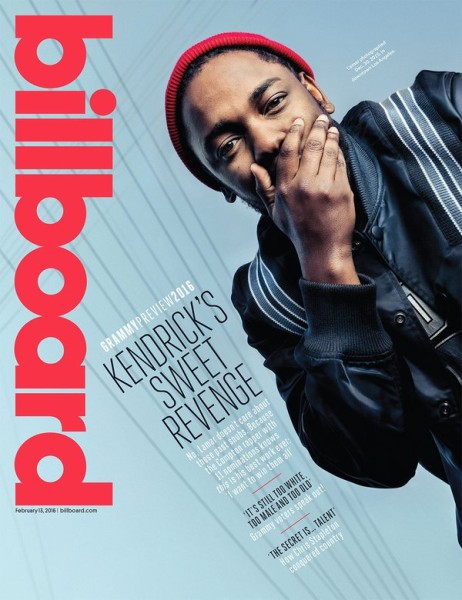 At this point in his career, with only two studio albums under his belt, there's no denying that Compton's Kendrick Lamar is nothing short of a superstar. Even early on before the world first got a taste of what Kendrick was offering with 'Swimming Pools,' fans of the rapper were confident in the quality of music that he pushed out and were even more confident in the clever lyricism and delivery he conveyed. With both qualities showing up on his most recent LP, To Pimp A Butterfly, Kendrick has rightfully earned his spot as one of Hip-Hop's most elite contributors of today's music scene. Up next for Mr. Lamar is the upcoming Grammy Awards that will air in less than two weeks. Taking the time to channel his inner model, the rapper finds himself on the cover of this month's Billboard magazine issue and sat down for a discussion that highlights many aspects of his career, thus far. In particular, Kendrick touches on the connection that To Pimp A Butterfly had with the people, along with hopes to win the biggest award of Grammy night, Album of the Year.
"The album just had a deeper impact than I expected, because it touched so many homes, and not just in my own community. I guess I'm just speaking words that need to be heard in these times."

Lamar hopes that connection will extend to Grammy voters — and not, he says, merely for his sake. "It's bigger than me. When we think about the Grammys, only Lauryn Hilland Outkast have won album of the year. This would be big for hip-hop culture at large."
Perhaps it's never been put in this perspective in some minds, but we are witnessing history as Kendrick heads into this year's Grammy ceremony. Dropping an album that stood out largely from the rest, the acclaim and praise that the rapper has seen over the past few months is highly deserved. Ahead of the big night, you can check out the rest of Kendrick's Billboard spread and discussion, here.