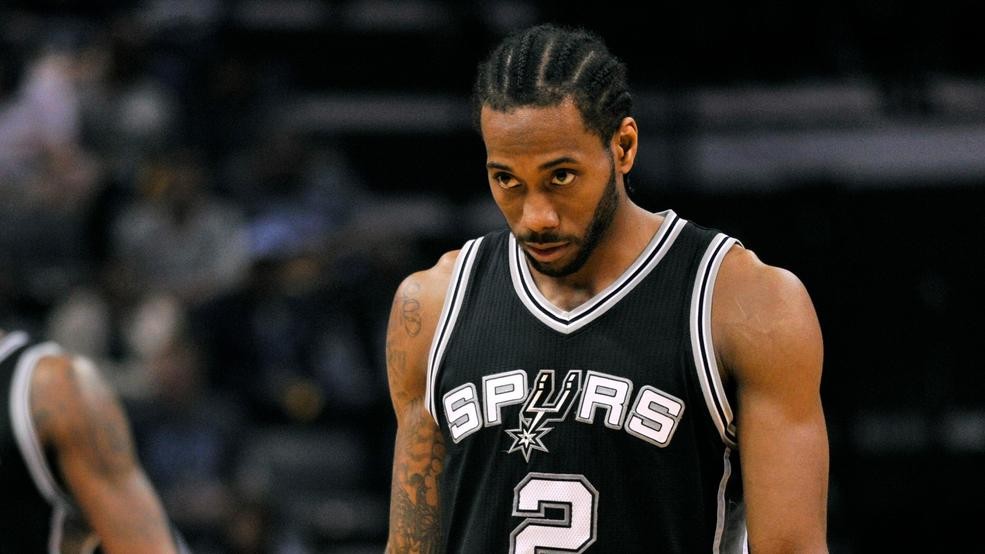 San Antonio Spurs forward Kawhi Leonard has had a disappointing season from an injury standpoint. The experience has had a negative impact on the Spurs' relationship with their superstar, reports ESPN's Adrian Wojnarowski and Michael C. Wright:
Months of discord centering on elements of treatment, rehabilitation and timetables for return from a right quadriceps injury have had a chilling impact on San Antonio Spurs star Kawhi Leonard's relationship with the franchise and coaching staff, league sources told ESPN.
Under president and coach Gregg Popovich and general manager RC Buford, the Spurs have a two-decades-long history of strong relationships with star players, but multiple sources describe Leonard and his camp as "distant" and "disconnected" from the organization.
Beyond the current rehab for the injury that has caused Leonard, an All-NBA forward, to miss most of the regular season, there is work to be done to repair what has been until now a successful partnership.
Spurs General Manager R.C. Buford refuted this report:
"There is no issue between the Spurs organization and Kawhi," Buford said. "From Day 1 all parties have worked together to find the best solutions to his injury."
"This has been difficult for everyone," Buford told ESPN. "It's been difficult for Kawhi. He's an elite-level player. It's been difficult for the team, because they want to play with a great teammate. And it's been difficult for our staff. Historically we've been able to successfully manage injuries. This rehab hasn't been simple, and it hasn't gone in a linear fashion."
"We sought outside expertise with the best tendon experts in the world," Buford said. "It worked beautifully for Tony [Parker], but it hasn't worked the same for Kawhi."
Due to his long-lasting quad injury, Leonard wasn't able to play a game for the Spurs until Dec. 12. He played just nine games before being ruled out indefinitely. In his nine games this season, Leonard played 23.3 minutes per game, averaging 16.2 points, 4.7 rebounds and two steals.