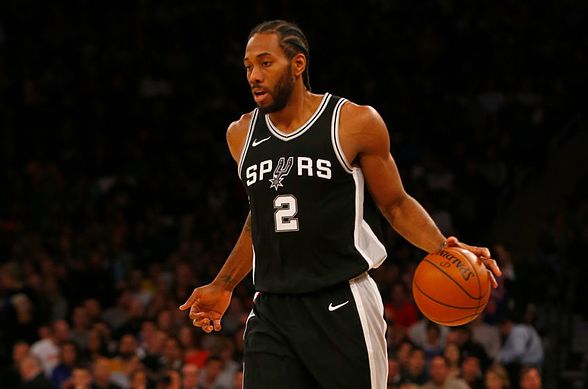 San Antonio Spurs' superstar forward Kawhi Leonard has been sidelined for an indefinite period of time due to a nagging right quadriceps injury. Leonard, who has played in just nine games since originally returning from the injury, was already being brought back slowly, considering the severity of the injury. However, even the most cautious approach to return to the court was for naught, as the Spurs' are now without their star again.
#Spurs today announced that forward Kawhi Leonard will be out for an indefinite period of time as he continues his rehabilitation process from right quadriceps tendinopathy. pic.twitter.com/aO7irlyPHd

— Rob Lopez (@r0bato) January 17, 2018
Following from Head Coach Gregg Popovich via Jeff McDonald of San Antonio Express-News:
"It hasn't responded the way we wanted it to. He's given it a shot. He's frustrated as hell. He wants to play badly. But if we're going to err, we're going to do it on the side of health and being wise. I'm probably more conservative than most, but the trainers, the rehab people, the doctors, the coaches, we all talked about this for a long time."
This update just adds to the controversy of the injury to 2014 Finals MVP, as Popovich said the original ailment was something he had never seen before. Leonard has played well, albeit not superstar level, since his return with averages of 16.2 points, 4.7 rebounds, and 2.3 assists. The Spurs will again have to find other contributors to shore up the absence of their star, who could be out for an extended period of time. The Spurs have had no shortage of contributions throughout the season thus far, including All-Star forward LaMarcus Aldridge turning back the clock, as San Antonio currently sits at 29-16, third in the Western Conference.