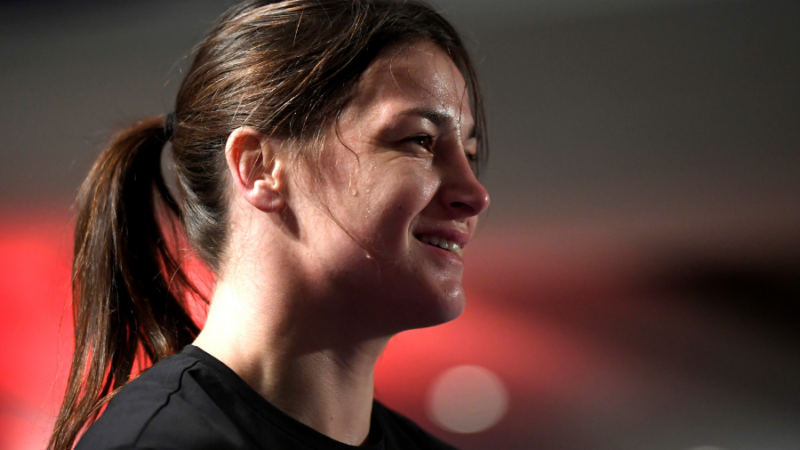 Undisputed lightweight champion Katie Taylor has identified her next opponent. On October 29, Taylor will defend her titles against undefeated challenger Karen Elizabeth "La Burbuja" Carabajal. The 10-round battle will headline a DAZN event at OVO Arena in London.
"We're going to make an announcement on Friday," Eddie Hearn told Ariel Helwani on Wednesday.
"But Oct. 29, Katie Taylor will return — watch this space! She has a number of mandatories to take care of."
Carabajal is a 32-year-old lightweight from Argentina with a professional record of 19-0 with two knockouts. In her last three fights, she's earned stoppage victories against Flavia Gimena
Quintero and Cintia Gisela Castillo as well as a decision victory against Lorena Edith
Agoutborde. However, she has not fought outside of Argentina in her professional career.
As for Taylor, she also has an unblemished record of 21-0 with six knockouts. Despite the COVID-19 pandemic, she has been extremely active over the last few years. She earned two decision victories in 2020 and three more decision victories in 2021. Most recently, she earned a hotly contested, split decision victory against Amanda Serrano in New York.
Moving forward, Hearn is hopeful that he can put together a second bout between Serrano and Taylor.
"We're also going to keep a keen eye on Cris Cyborg, who I believe has got a boxing debut coming up. [Katie] won't be fighting her on October 29 but that could be one for maybe the end of the year or very early next year," Hearn told Helwani.
"We're still talking the Amanda Serrano rematch, as well. But the legend shall return on October 29 in London. She'll be headlining back where she debuted, at Wembley Arena."