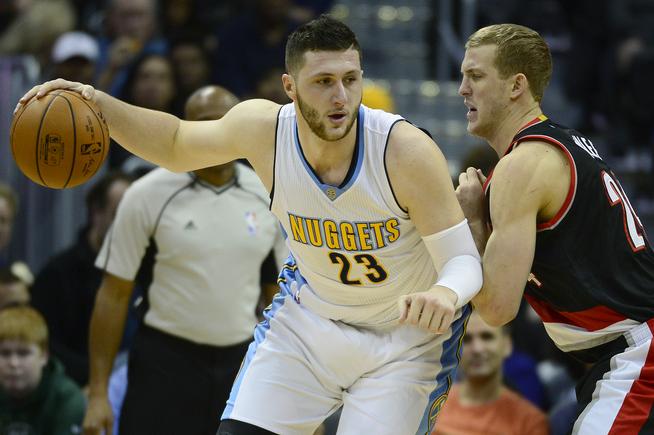 Jusuf Nurkic went from an intriguing prospect with a ton of upside to being someone the Denver Nuggets were looking to deal in about a year. There were rumblings last season that the Nuggets were possibly thinking about trading Nurkic but nothing came to fruition, the goal still was pairing Nurk with Nikola Jokic and create a dynamic frontcourt for the future. Jokic ascended into perennial All-Star status while Nurkic fell on the depth chart.
The Nuggets will in turn ship out Nurkic, along with a first round pick in the 2017 NBA Draft, to the Portland Trail Blazers for sudden journeyman big Mason Plumlee and a second round pick in 2018.
Following from Adrian Wojnarowski of The Vertical on Yahoo! Sports.
Denver is trading center Jusuf Nurkic to Portland, league sources tell the @TheVertical.

— Adrian Wojnarowski (@WojVerticalNBA) February 12, 2017
Portland sends Mason Plumlee a 2018 second round pick for Nurkic and a 2017 first-rounder (via Memphis), league sources tell @TheVertical

— Adrian Wojnarowski (@WojVerticalNBA) February 12, 2017
Sources on @TheVertical: Portland sends Denver center Mason Plumlee and '18 2nd-round pick for Jusuf Nurkic and '17 first-rounder (via Griz)

— Adrian Wojnarowski (@WojVerticalNBA) February 12, 2017
Portland now has three first-round picks in the loaded 2017 NBA draft with a pair, from Cleveland and now Memphis, expected to be in the mid to late 20's.
Beyond that, on the surface, it looks like a pretty good deal for both sides. Yes, the Nuggets still have a logjam in the front court with Nikola Jokic, Kenneth Faried, the young Juancho Hernangomez and now Plumlee. But, there still is a couple of weeks until the trade deadline so the Nuggets might not yet be done shopping their talent.
For the Blazers, they avoid having to get into a bidding war this summer over Mason Plumlee who has some interesting value. He's a player who quietly does it all for a team and fills the stat sheet but his numbers aren't anything to tell your grandkids about, and he also tends to just disappear from time to time. They avoid having to pay him this summer and climb further towards the luxury tax line.
This deal is just another pre-trade deadline deal that builds anticipation for what might happen come February 23rd.