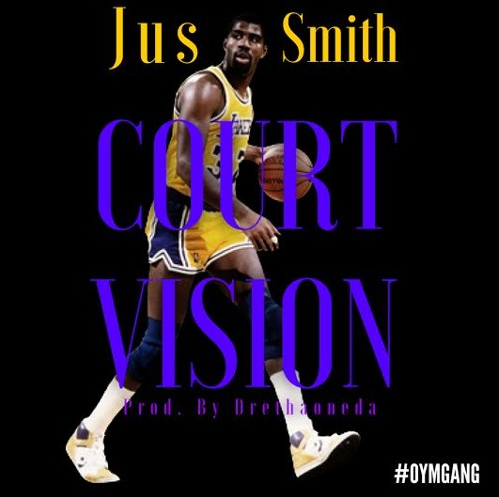 Here we go, new Jus Smith!
Fresh off two SmithStyle remixes; 'You, Me, Him, Her' and 'That's Me', Harlem's own is back with an original record as promised. 'Court Vision' produced by Drethaoneda is what Jus describes as a "life changing record for him". Rightfully so his prediction can and should come true. If you have been following Jus and his music you can vividly hear the growth and the direction in which he is going.
Leading up to 'Court Vision', outside of freestyles/remixes heard like the ones mentioned above and 'Hype', Jus has released such originals like 'Yves Saint LeBron', 'George Gervin' and 'Wraith LaFarentz. Notice the trend with the Drethaoneda produced records? All NBA (See what I did there?) influenced themes.
'Court Vision' being the most recent, Jus has certainly delivered as he looks to not only motivate himself, family but people who come across this record.
"Go and get the bag, go and get the bag"
You have to have the tunnel vision on success or in Jus words 'Court Vision', "All I see is cash I don't see these n***as". You see where we going with this? Well there is a more underlining meaning behind the records that Jus has been releasing and 'Court Vision' is no different.
"I'm running through that money like I'm Zoey Dollaz/ Look at how we LIVin man we got em LIVid when we in Miami boy you know we LIV it"
Looking to provide a detailed look into his life the only way he knows how, each record strategically adds to the story focusing on the last year or so of experiences thaG5 has witnessed. Going from talking about how he is living on 'Court Vision' to how he wants to see his homies live is a testament to the individual Jus Smith is.
I guarantee you will play this more than once and with this just being the beginning one has to be eager to hear what is next. Check out 'Court Vision' below…