This weekend Jordan Peele followed up the Oscar-nominated film 'Get Out' with yet another horror/thriller masterpiece in 'Us'. Starring Lupita Nyong'o, Winston Duke, Elisabeth Moss, Anna Diop, Yahya Abdul-Mateen II and Shahadi Wright Joseph, 'Us' followed the story of Adelaide Wilson, who returned to the beachfront home where she grew up as a child. Haunted by a traumatic experience from the past, Adelaide grows increasingly concerned that something bad is going to happen.
Our team at Def Pen all went out and watched the highly anticipated film and had to write our thoughts. Without further ado, here is our roundtable discussion (Minor spoilers ahead):
Esfandiar:
All of the hype surrounding this film was worth it. Jordan Peele's imagination truly comes to life in this film as the imagery, sounds and even the dialogue provides subtle hints at a deeper underlying meaning. You go through a roller coaster of emotions watching the film and Peele sets that from the get-go.
Lupita N'yongo is absolutely breathtaking in a dual performance (playing herself in two different forms) as she takes on the personality of Adelaide Wilson and Red. She captivates you in every scene with how she depicts both sides of such a powerful character. Winston Duke and Elisabeth Moss also have their moments where they steal the show. While this movie didn't necessarily have much jump scares, I thought that provided for a more gradually creepy and eery feeling.
My favorite element of the film is Peele's use of music. From the Beastie Boyz to NWA & Luniz, the film was filled with references to pop-culture. Through the music, Peele made a scary movie worth watching in the theatres. In my opinion, the music was just as important as the dialogue itself. Without getting into it too much, music is a pretty integral part to the plot The movie is a little puzzling and I think Peele intended for it to be that way. He wanted you to second guess yourself and in that — he did a masterful job. This movie deserves a sequel and has endless possibilities for storylines. Do I think Peele will re-visit the idea? I doubt it. He's fully immersed into the world of the 'Twilight Zone' with CBS right now, but if he does… you can count me in.
Ananth:
Jordan Peele will go down as one of the most unlikely film stars of all time. Very few and in-between we see a director release a film and it feels like an event without having grown men dress up in bat costumes or a film that follows a purple maniac who wants to bring balance to the world. Speilberg, Scorcese, Tarantino, Hitchcock, Nolan, and now Peele.
Much like an MC's first project, a film directors first film is a culmination of their growth as an artist and what has led up to at that point, hence why many directors and rappers alike peak at their first project. But Jordan Peele isn't your average director.
Much like the doppelgangers that terrorize America in Us, Peele's horror perspective comes from the greats that have done it before him. Peele replicates, emulates and adds his own substance and flair as a director that hasn't been seen in Horror since Wes Craven.
Jordan Peele has mastered a forgotten art in filmmaking: timing. Peele understands the cinematic experience and what casual and hardcore film fans want. Peele manages to deliver the perfect blend of horror, drama, suspense and comedy to deliver a cinematic experience that will undoubtedly please audiences and critics alike.
For those that go into the film expecting another 'Get Out', forget about it. 'Us' is an entirely different monster in comparison to Peele's debut film, a monster with some deep, dark, secrets that'll make you think twice.
Ryan:
Jordan Peele's Us is much more about what we can be rather than who we are. His last film, Get Out, served as this critique on the intersections of race and culture within America. Brilliantly done, the film cornered Peele into being a director that would continue to make films of a similar trope for the foreseeable future. Instead, Peele uses Us as a vehicle to further establish himself as a director who can create an expansive universe within a film purely for entertainment. He does not have to discuss race or ethnicity in a film if he doesn't want too. He's just really good at making movies.
Jordan Peele's Us is also innovative because it takes on the typical standard of what we'd expect from a horror movie. First, there are way more Black people in this horror film than any other major horror film of recent memory. Beyond the obvious, this horror movie doesn't truly have a monster or a villain. Yes, there are those looking to kill others, but they aren't all that diabolical. The monsters in this film look, feel and smell like normal people. In this facet of the film, Us is similar to Get Out. Peele is making a socio-cultural statement by not so subtly pointing out that our biggest enemy is often ourselves.
Without giving away the plot of the film, I can tell you the following three things. First, Peele's Us cements him as a director worthy of comparison to some of the best and the brightest. Second, it's not as good as Get Out and that's perfectly fine. Third, Us will challenge you to think at times, but it's important not to over think it as well. Us is funny, insightful and so much more than your stereotypical horror movie. Best of all, there are a number of Black people who actually live.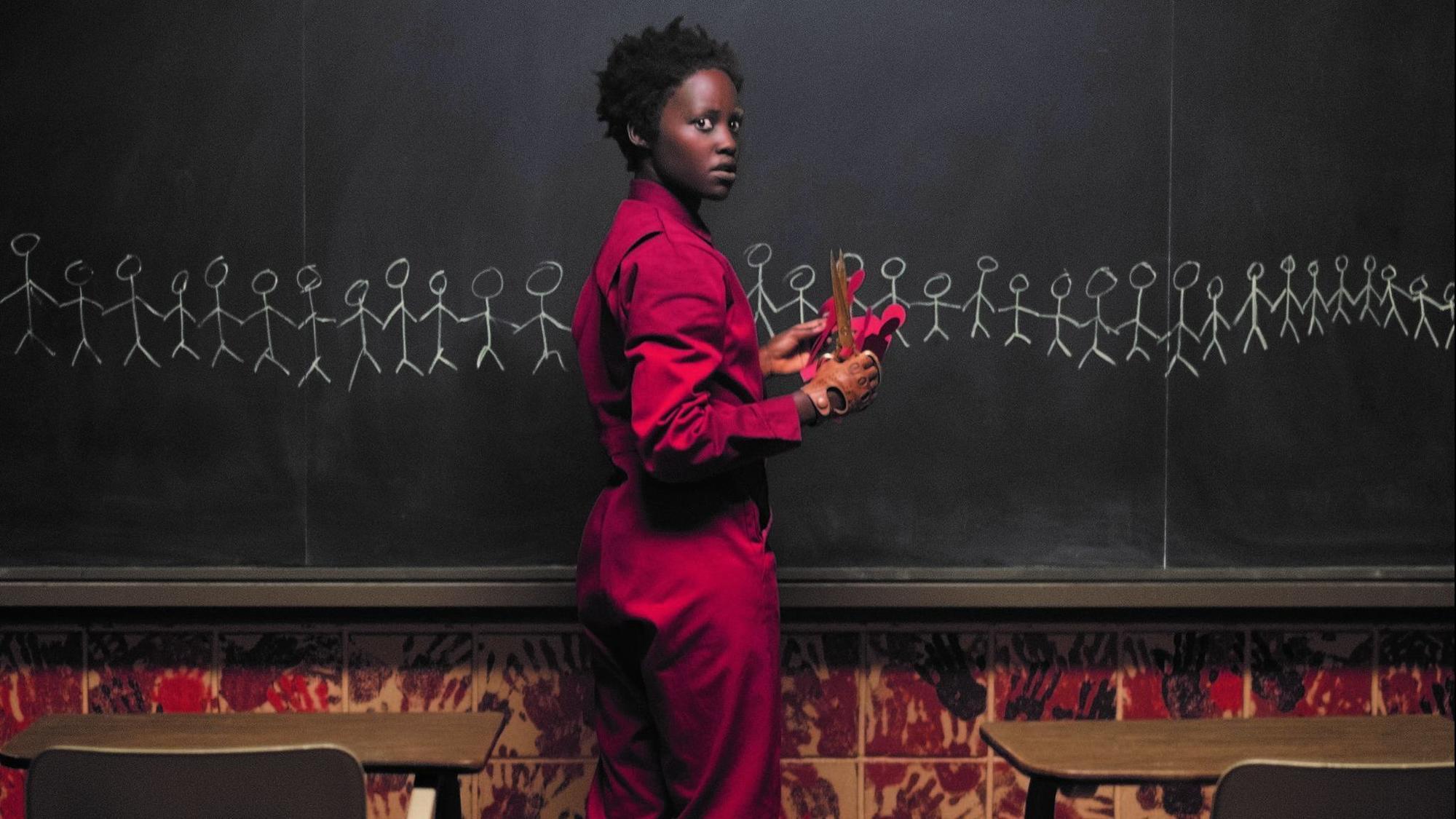 Grant:
Us takes what Jordan Peele started with Get Out and turns it up to 11. His freshman outing definitely carried more concrete views on race relations in America while Us opts for a broader, more varied range of topics to address. Ranging from the fear of the 'Other' to the fear all humans have of the darkest parts of themselves, Peele has crafted a masterwork of interweaving details and themes that only really make themselves known upon subsequent viewings.
But, going back over the minutiae of Peele's direction seems a little redundant because those have been mostly covered above. So, I'm going to highlight what in my opinion is the single most impressive thing about the film: Lupita N'yongo's performance. Seriously, just give her another Oscar now because there's no way someone's beating it this year. Her terrifying portrayal of Red is more than enough to earn a nomination on its own, but it wasn't until my second viewing that I really started to pick up on the nuances she brings to the character of Adelaide as well.
Of course, I don't want to reveal too much if you haven't seen the movie yet but, if you have, go see it again. And this time, pay specific attention to N'yongo's performance throughout the entire film because I guarantee you'll be absolutely floored by the time the credits roll again.