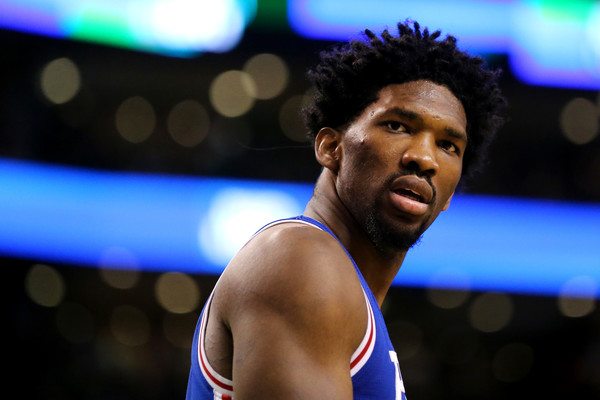 Philadelphia 76ers young star in the making Joel Embiid had been positioning himself as the prime target to win the 2017 NBA Rookie of the Year award, fighting off the likes of Malcolm Brogdon, Jamal Murray, and Buddy Hield. It was supposed to be Joel Embiid's award to win, but then the worst happened. An injury came back to haunt Embiid.
Joel Embiid was diagnosed with a torn meniscus, and he was forced to miss the 2017 NBA All-Star Weekend. He wasn't too pleased with how the team handled his injury, and the fallout was a diagnosis of Embiid only missing four games following the All-Star break. Only a few days after that diagnosis, it has been determined that Embiid will be out indefinitely with knee swelling and will undergo an MRI soon.
The Sixers announced the following on their Twitter account.
Medical update (1/2):
•Embiid did not take part in shootaround after swelling in left knee. MRI today. Listed out indefinitely.

— Philadelphia 76ers (@Sixers) February 27, 2017
Embiid initially injured his knee in January against the Portland Trail Blazers, and he hasn't played in Philadelphia's last 11 games. Embiid now joins fellow top pick Ben Simmons on the Philadelphia injury report.
(UPDATE: 3/1/17)
Sixers announced Joel Embiid will miss the remainder of the season due to his knee injury.
As previously announced, Sixers center Joel Embiid underwent an MRI on his left knee Monday afternoon, allowing the team's medical staff an opportunity to provide an update on the results.

"The assessment of Monday's follow-up MRI of Joel Embiid's left knee appears to reveal that the area affected by the bone bruise has improved significantly, while the previously identified meniscus tear appears more pronounced in this most recent scan," said Sixers Chief Medical Director and Co-Chief of Sports Medicine Orthopedics at New York's Mount Sinai Medical Center Dr. Jonathan Glashow. "We will continue to work with leading specialists to gather additional information through clinical examination and sequential testing to determine the best course of action and next steps."

Embiid's status is changed from out indefinitely to out for the remainder of this season.

"Our primary objective and focus remains to protect his long-term health and ability to perform on the basketball court," said Sixers President of Basketball Operations Bryan Colangelo. "As our medical team and performance staff continue their diligence in the evaluation, treatment, and rehabilitation of Joel's injury, we will provide any pertinent updates when available."
When he was healthy this season, Embiid has been an outstanding breath of fresh air for the often lowly 76ers. He's averaged 20.2 points per game and 7.8 rebounds in 25 minutes per game, but he has appeared in just 31 of the Sixers' 58 games this season.