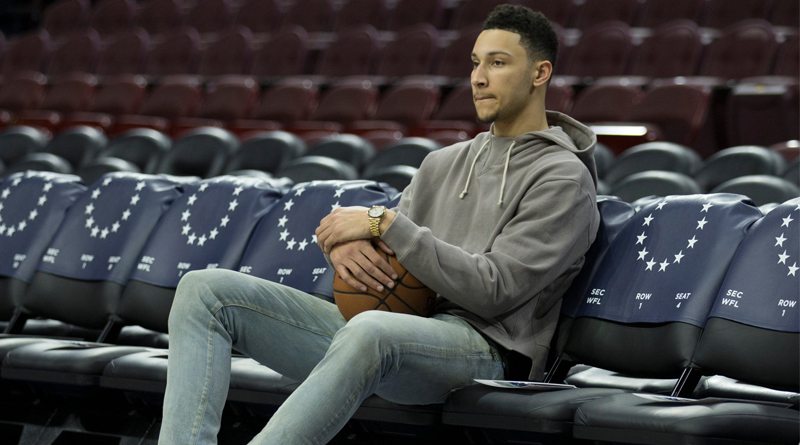 For the fifth consecutive season the Philadelphia 76ers will have an important young big man end his season before it actually began. This time it's the number one overall pick from the 2016 NBA Draft.
Ben Simmons suffered an injury during a preseason workout and immediately everyone feared the worst. The Australian wingman went down in September and it was initially announced he would be out a few months. But as the Sixers go through the trade deadline minus Nerlens Noel, who was sent to the Dallas Mavericks in a trade, they will also be without Ben Simmons for the remainder of the season.
After a recent CT scan didn't look good, the team made it official. He will be getting shut down and start his rookie campaign next year. Following from Tom Moore of The Intelligencer.
Sixers president of basketball operations Bryan Colangelo informed the media during Friday's news conference at the team's training facility that Simmons' CT scan on his surgically repaired right foot didn't show complete healing.

Given that the Sixers only have 26 games, and less than seven weeks remaining in the 2016-17 campaign, Simmons won't make his NBA debut until next season.

"We want to make sure Ben Simmoms only takes the court when he's fully healthy," Colangelo said. "We're not going to put him in a position to risk a refracture."

Simmons, the No. 1 overall pick in June's draft, suffered a Jones fracture of the right foot during the Sept. 30 final scrimmage of training camp. He underwent surgery Oct. 4.

"Ben Simmons is heartbroken," Colangelo said.
Way back in 2012, Andrew Bynum was traded to the 76ers as a part of the Dwight Howard mega-deal to Los Angeles which also saw the Sixers trade away Andre Iguodala. Bynum never played a game with the 76ers and missed the entire 2012-13 season. Following him was Nerlens Noel who missed his first year with the Sixers due to an injury and then two more seasons without Joel Embiid. Now Ben Simmons adds his name to that list.
It was rumored way back in October that there was no way Simmons would play this season and there was speculation it was due to his Nike contract, which has a possible incentive if he wins Rookie of the Year. Either way, Simmons season is over and he'll have to put his debut on delay until the fall of 2017.