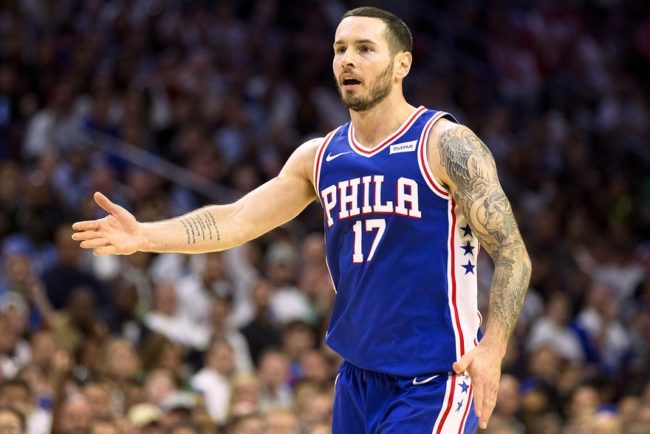 Philadelphia 76ers guard JJ Redick shared the story of how his sister-in-law and he discovered what he described as a caged girl in the back of his car service ride on the latest episode of his podcast.
Redick said that after a photo shoot for MrPorter.com in New York City, the company sent a car service for him, his wife, and her twin sister. He said that he noticed a smell in the back when he went to place his bags there but didn't pay it much mind until later in the ride when his sister-in-law Kylee notified him that there was a person in the back with them.
After Redick asked for the driver to pull over and exited the car, he told him to check if there was someone in the back. He then shared the rest of his recollection of the incident to his podcast guest, Orlando Magic rookie Mo Bamba:
"So the car is like facing … sort of perpendicular to us. And I'm like, 'Sir, I think there's a person in your backseat.'

"And so he lifts the blanket up, but like towards the window, so that the blanket is facing up, so we couldn't see cause we were on the sidewalk—perpendicular to the car, not behind the car. And he's like 'No, there's nothing in here. There's nothing in here.' And he closes the blanket back, and then he closes the trunk.

"And as he's like walking around to the front seat, a head pops up. [Bamba starts to laugh.]

"It's the—no, this is not funny. There's a back of a female's head. She's got blond hair, there's a ponytail, and based on the size of the box or cage that this person is in, it's like either, like a very small human, or a child. And I'm like, 'We all saw it, right?'

"So he drives off, and then Kylee, now at this point, it's like, 'Are you sure? Was that a dog? Was that a dog with like a very fury tail?'

"And she's like, 'No. The reason I said there was a person is because I saw movement in my peripheral—out of my right eye. So I turned around, and the blanket was moving. So when I looked back, like half of a human face came out of the blanket. I saw a woman's eyes, woman's face, woman's blond hair.'"
There have been a plethora of interesting stories around the NBA this summer, but this story from JJ Redick may just take the cake for most unusual and disturbing.
Redick, 34, re-signed with the Sixers on a one-year deal this offseason.