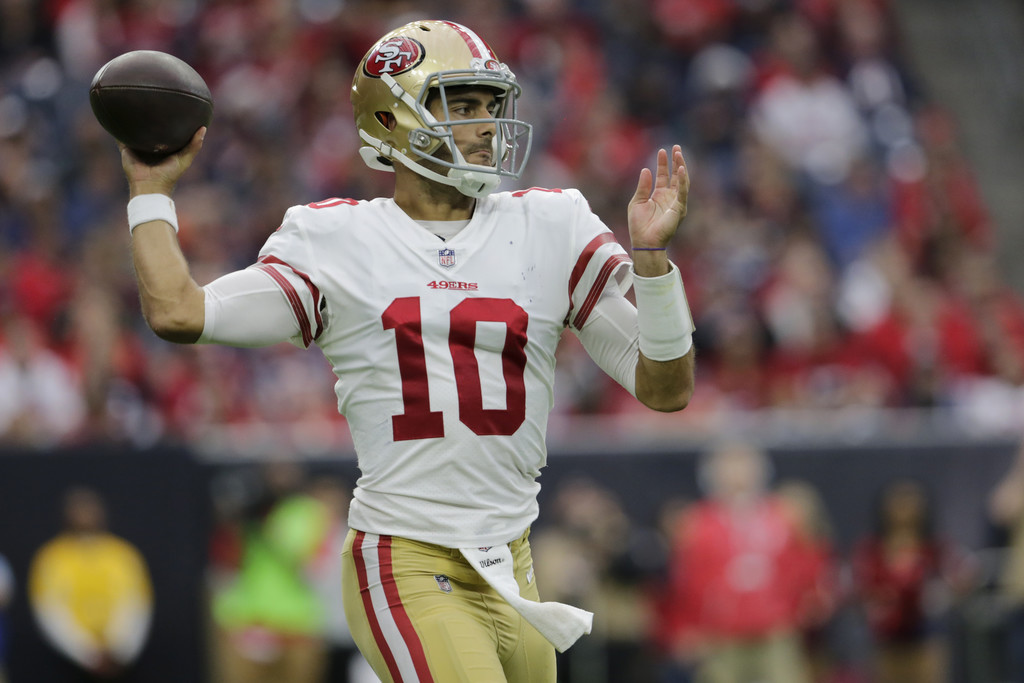 The San Francisco 49ers entered the 2018 NFL season accompanied by as much hype as any team. Much – if not all – of that hype was the product of quarterback Jimmy Garoppolo entering his first full season as the starter in San Francisco. The season, however, will come to an untimely end for Garoppolo, as his 2018 season is over now that he's officially been diagnosed with a torn ACL in his left knee.
MRI showed what 49ers feared: Jimmy Garoppolo tore his ACL and his season is over, per source.

— Adam Schefter (@AdamSchefter) September 24, 2018
Last season saw Garoppolo get traded to the 49ers last from the New England Patriots leading up to the trade deadline. In exchange, San Francisco gave up a 2018 second-round draft pick. His new team then followed up by inking him to a then-record five-year, $137.5 million contract.
In games starter by Garoppolo, the 49ers went 5-0 in 2017. In terms of individual numbers, the quarterback had 120 completions on 178 attempts (good for a 67.4% completion percentage) that went for 1,560 yards and seven touchdowns against five interceptions.
Garoppolo, who will turn 27 on November 2nd, was the subject of much TMZ-style headlines over the offseason. But as the season grew near those subsided in exchange for a plethora of positive predictions for him and the 49ers. Some had San Francisco in the NFC playoff picture. Those projections, however, might all have been for naught now that the organization has to turn the QB reigns over to third-year man C.J. Beathard.
As of this writing, Beathard is the only other quarterback on the 49ers active roster, meaning once Garoppolo is placed on season-ending injured reserve, the team can make a corresponding move to get another QB on the roster. They have Nick Mullens, a second-year pro out of Southern Mississippi, on their practice squad. So they could opt to go in-house and move Mullens to the active roster. Or, they could pursue an alternative via free agency or trade.
This season, Garoppolo's completion percentage dropped to 59.6% (53-89 in total). Those completions generated 718 yards, meaning his yards per attempt dipped from 8.8 to 8.1 from last season. His touchdown-to-interception ratio remained roughly the same, as he had five touchdowns and three interceptions thus far in 2018. Still, this can only be seen as a major setback for both Jimmy Garoppolo and the San Francisco 49ers.