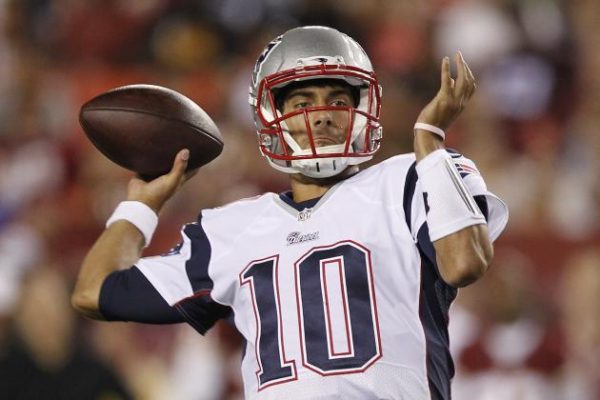 Do not believe everything you read on social media, kids. After an insane day of free agency, news broke early this morning that Jimmy Garoppolo posted a "farewell and goodbye" on his Instagram account.
Good morning.#Patriots QB Jimmy Garoppolo posted this on his instagram.

Will a trade be announced soon? pic.twitter.com/NnVN3breXB

— Def Pen Sports (@DefPenSports) March 10, 2017
Adam Schefter has since reported that Jimmy Garoppolo's account was hacked.
Adam schefter on Jimmy G https://t.co/HR4pLc9zPO

— Rob Lopez (@R0BaTO) March 10, 2017
Other trusted sources have also released the information that Jimmy's account was hacked.
Spoke to someone close to Jimmy Garoppolo who had no knowledge of any trade and believes it's a hack. Alas, it's 5:26 am now & we're all up

— Ian Rapoport (@RapSheet) March 10, 2017
Told (like half dozen others) that the Jimmy G intagram post was a straight up hack.

— Michael Giardi (@MikeGiardi) March 10, 2017
Since all of this has been reported, the photo has been deleted. Here is the current status of Jimmy G's Instagram account:
Hey for the record with everyone looking at Jimmy Garoppolo's Instagram page today – the top center and top right pics are mine. Bragging. pic.twitter.com/CSj7brIqsx

— Joe Giza (@JoeGiza) March 10, 2017
Jimmy Garoppolo Instagram post is now gone. Assuming everyone in his entire phone contacted him.

— Darren Rovell (@darrenrovell) March 10, 2017
Why did it take five hours to get deleted? Is Jimmy G just waking up for the day? How funny would it be that after all of this was said and done, the Patriots ended up trading him? If teams want Garoppolo bad enough, they could wait until he hits free agency next season. He has one year left on his rookie deal.