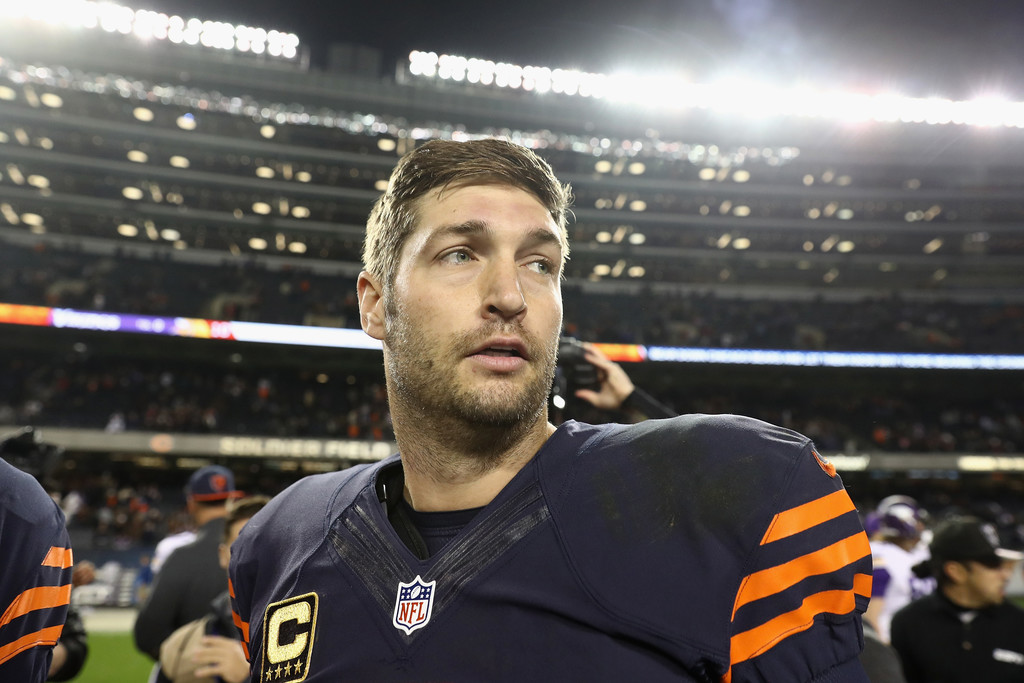 Jay Cutler stepped away from the Chicago Bears and football in hopes to pursue a post-playing career as a broadcaster joining the Fox family. After 11 years in the NFL, one trip to the Pro Bowl and only one postseason trip for two games in 2010, Cutler decided to hang it up. But a recent injury to a team coached by someone Cutler used to play under brought back some rumblings of a reunion.
Adam Gase took over as the head coach of the Miami Dolphins in 2016 but before he went to South Beach, he was the offensive coordinator for the Chicago Bears in 2015. In the 2015 season under Gase, Cutler played pretty well for the Bears. Jay Cutler has eight seasons in which he played at least 11 games and the 2015 campaign was a personal best quarterback rating season of his career (92.3), second fewest interceptions (11), second best completion percentage (64.4%), the most fourth quarter comebacks in one season (four) and all other major passing stats rank no worse than fifth out of those eight eligible seasons. So yes, at age 32 you could say he had a pretty good season in 2015.
Dolphins starting quarterback Ryan Tannehill went down with a knee injury in training camp which initially looked scary, was downplayed through out the day and then finally was something that Miami feared would require surgery. Now it appears the Dolphins are 'breaking the glass in case of emergency' and Cutler just might be the man answering the call. There was a reported interest from both Gase and Cutler to reunite and their wish is about to come true.
Benjamin Allbright of AM 1340, 104.7 FM in Colorado reported on Friday that the two sides were finalizing an agreement. Adam Schefter of ESPN said earlier today that Cutler agreed to a deal for one-year, worth $10 million with the Dolphins.
Hearing Cutler deal is close. #Dolphins

— Benjamin Allbright (@AllbrightNFL) August 4, 2017
Unconfirmed, but this is in the neighborhood of what I'm hearing https://t.co/BWC4dJ73uW

— Benjamin Allbright (@AllbrightNFL) August 4, 2017
Miami's one-year deal with QB Jay Cutler is worth $10 million, plus incentives, per source.

— Adam Schefter (@AdamSchefter) August 6, 2017