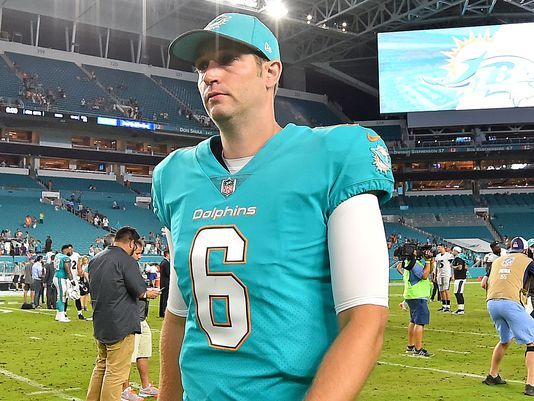 If it weren't for Ryan Tannehill winding up on injured reserve, Jay Cutler would have been doing TV for Fox on Sundays. Luckily for Cutler, the Dolphins came calling in desperate need for a quarterback. Cutler might have been saved himself as he seemed like a shaky option for Fox to broadcast games. In a recent interview with Sports Illustrated, Cutler admitted that he didn't prepare for TV with Fox Sports one bit.
Peter King conducted the interview:
"Did you practice doing TV much this offseason before coming back?" King asked.

"I mean, I'd be lying if I said I did," Cutler responded.
Cutler, 34, will be going into his 12th NFL season joining his 3rd different team. The Adam Gase factor obviously played a huge role in Cutler deciding to join Miami this season. Under the Gase regime in Chicago, Cutler posted career highs across the board. If Cutler can throw for 28 touchdowns completing 66 percent of his throws as he did with Gase, there's no reason Miami can't repeat on their 10-6 record from 2016.
The Dolphins might have saved the world from a disastrous Jay Cutler in the broadcast booth. Then again, Cutler also wasn't preparing for life to be a quarterback again. With Cutler now in house, his play may be a telling sign with what Miami does at quarterback next year. They presumably can't keep both Tannehill and Cutler on the roster in 2018.