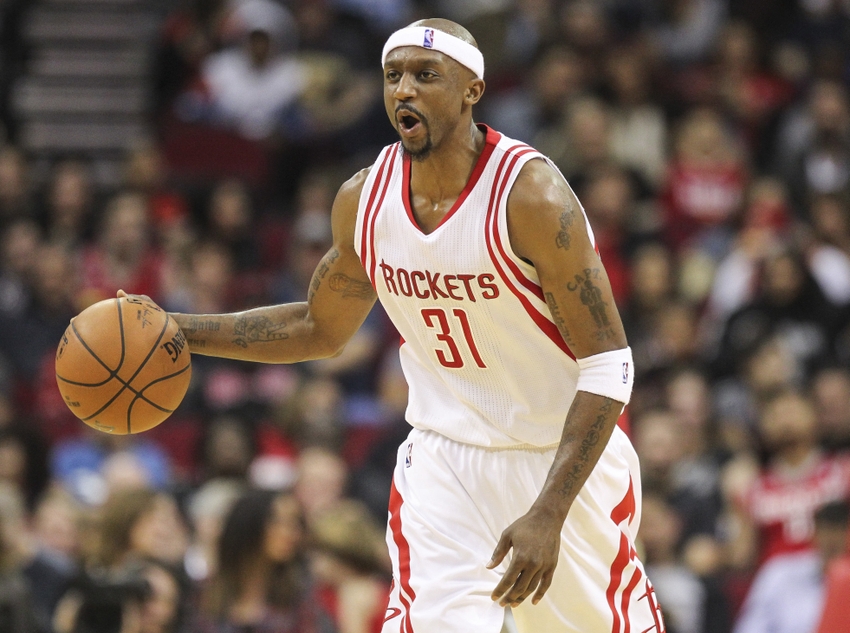 Veteran guard Jason Terry is known by many as being one of the most upfront and honest guys around the league. Whether you ask his teammates, coaches, family or friends, they will all tell you the same.
With that being said, Terry releasing a surplus of hot takes on SiriusXM NBA Radio Wednesday night should come as a surprise to nobody.
Terry, a former NBA champion, has followed the notorious James Harden-Klay Thompson debate for rights to be called league's best shooting guard and made his opinion crystal clear to host Justin Termine.
"He's not leading s***", Terry said of Klay Thompson. "If he doesn't make shots, how effective is he? Go watch Klay Thompson vs. James Harden from last year and see what James did to him. Every time James got by him, you know who was there? Draymond Green or Andrew Bogut.

"Let's see what happens this time around."
Terry confidently believes his former teammate in Houston, James Harden, is the league's best shooting guard. He favors Harden due to his all-around game and clarified that Klay Thompson is still a good player despite not being at Harden's level.
"I'm not a Klay Thompson hater," Terry clarified, praising his shooting and his family. "It's just when you put him up against James Harden, there's no comparison,"
One thing Terry said that shocked fans were his opinion on the Golden State Warriors' top-three shooters. Terry has Kevin Durant as his third option, but gave an unlikely opinion on the Bay Area's top shooter:
"I actually think Klay is a better shooter than Steph," Terry exclaimed. "Klay Thompson is amazing. His jump shot is pure. Just pure beauty".
He was asked about the league's best players, and subsequently named Stephen Curry, LeBron James, Kevin Durant, Russell Westbrook, James Harden, and Chris Paul as the league's "A-side players", intentionally leaving out Klay Thompson and Kawhi Leonard. 'The Jet' believes they are "B-side players".
Jason Terry decided to sign a free-agent deal with the Bucks this summer, leaving the Rockets after a two-season stint. Since joining Milwaukee, one player has prominently stood out above the rest in Terry's mind: Giannis Antetokounmpo.
"He started out slow, then as the season wore on, he started coming into his own," Terry said of Antetokounmpo's 2015-'16 campaign. "He filled up the stat sheets and was the only guy to have five triple-doubles after the All-Star break… Sure, it didn't amount to team success, but you could see the star potential in this kid. He plays both ends of the floor and fills the stat sheet up. I mean, points, rebounds, assists, and the thing I really like is how he makes his teammates better. He will even guard positions one through five.

"This kid is a leader," Terry continued. "I've been here for three days now, and I can't beat him to the gym. I can't beat him in the morning and I can't beat him at night. The kid is a worker. Right after the workouts, he's in the film room watching Scottie Pippen, Shawn Marion, and other great forwards. It's amazing to watch a kid like that. It makes you proud. The game is in a great place, and when I ever do decide to leave, I know the league will still be in a good place with players like Giannis.

"He'll be an All-Star this year, he'll lead us to the Playoffs, and he's going to be a top-10 player in this game real soon."
For Jason Terry, a 17-year veteran in the NBA, joining the Bucks is an opportunity for him to help mentor young talents such as Antetokounmpo, Michael Carter-Williams, and Jabari Parker. Milwaukee will count on his leadership skills and locker room presence this season as they look to make the Playoffs after missing out last season.
Terry joins a Bucks team with a plethora of new additions besides him, including Matthew Dellavedova and Mirza Teletovic. With Khris Middleton suffering a torn hamstring that'll likely sideline him for most of the season, all three players should expect to see a solid amount of playing time this year.