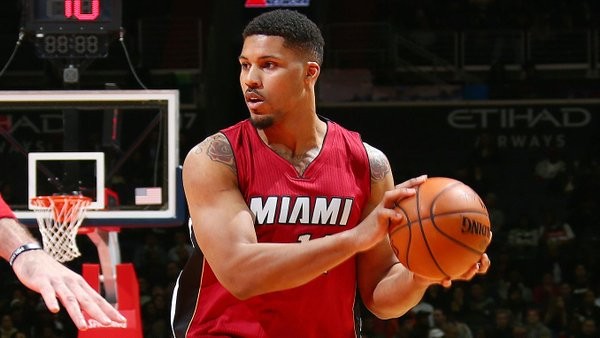 For Jarnell Stokes, agreeing to a deal with the Miami Heat represents more than just a basketball contract. It represents a second chance, the opportunity to succeed with a world-class franchise and the continuation of a transformed lifestyle.
Stokes, 24, spent time with the Heat during the 2015-16 season, mostly appearing in games for their G League affiliate in Sioux Falls. He never truly found his footing with Miami that year and eventually moved on to sign with Denver in the summer of 2016. He was waived after two games due to injury, then spent the 2016-17 season in the G League and signed in China during the 2017 offseason.
"I had an amazing time in China," Jarnell Stokes told Def Pen Hoops. "It was almost as if it was meant to happen — just my path of life and how unappreciative I was of certain opportunities.
"I had to overcome some obstacles, and I was really able to perform not only on the court, but off the court. I really went in the deep learning of a mindfulness mode. I started a business, I read about 50 books in a couple of months. I really took that opportunity (in China) to work on myself."
The toughness and effort shown by players in the Chinese Basketball Association really stood out to Stokes in his brief stint. "They'd run through a wall for coach," he said. He averaged 35.8 points and 19.9 rebounds per contest, mostly playing at the power forward position, where he's most comfortable.
The team respected his versatility and gave Stokes an array of responsibilities that included scoring, rebounding, guarding every position and even occasionally bringing the ball up the floor. It's the exact formula the Miami Heat idolize in today's version of basketball, which helped lead Stokes to return to the team this fall.
"I'm 100 percent happy, I'm confident with my game and I know what I can and can't do," Stokes said. "The Heat already respect that I'm a very hard worker, and I think that's one of the things that has them on my radar."
Stokes received interest from a handful of Western Conference teams as a free agent this summer, including the Portland Trail Blazers, but chose a return to Miami with a mindset and perspective on life different from what he had in 2016 when he was originally with the team.
Since leaving the Heat two years ago, he made it his mission to improve in two major categories: his play on the court, and his life off of it. Taking advantage of opportunities. Being grateful for what life has to offer. Confronting challenges head-on with a smile, rather than doing so with a negative mindset. Stokes found these life enhancements as important as improving his on-court impact.
He started his own business, launched a new fitness line at the end of August, and focused on getting in shape for a return to the NBA. He'll often post motivational or positive messages on his Twitter account for his 47,000 followers:
Define your purpose and always trust your intuition and vision. This way, you will find clarity in which are the substantial that lead to blessings or distractions that lead to lessons.

— Jarnell Stokes (@JarnellStokes) August 30, 2018
https://twitter.com/jarnellstokes/status/1033046393580081152?s=21
I am not a motivational speaker. I'm a listener, a doer, and I lead with my actions because I care about the people

— Jarnell Stokes (@JarnellStokes) August 23, 2018
"This internal happiness, this spark that I wake up with every day, it changes my behavior with people," Stokes said. "I don't believe on the court was a huge issue with Miami [in 2016], but off the court, I could've been a lot happier. I could've been a lot more grateful."
On the court, Stokes has extended his overall game. He remains a hulking 6 feet 9 inches, 265 pounds, but is more comfortable on the offensive end and much improved on the defensive side. He's confident the changes in his game will translate to the NBA.
"I feel like I've improved defensively," Stokes said. "I can guard all five positions. In this new NBA when everyone wants to put guards on the floor and switch, I feel like I can stand out. Strength is a lost art in the NBA today."
"The coaching here is so great," he continued. "I think I'll fit in perfectly."
Jarnell Stokes, the 2016 NBA D-League MVP, is known for using his strength and athleticism to his advantage on the hardwood. He'll join a roster full of hungry talent later in the month, including Josh Richardson, his teammate at Tennessee for three seasons. Some of the roster remains intact from two seasons ago, giving Stokes the edge of already having experience with coaches and several players.
"I know they're fair," Stokes said of the Heat organization. "They are very fair when it comes to trusting what they see. A lot of guys go by numbers and politics, but you can pretty much trust that if you put in the work — guys like Tyler Johnson, Hassan Whiteside, Josh Richardson — these guys really did not have an opportunity at first. Miami is typically the spot that is able to trust in what they see."
The Heat have preached a hard-working, family atmosphere for years under Micky Arison, Pat Riley and Erik Spoelstra, with the same, palpable message being spread throughout the franchise on a daily basis: Work from within, take extra care of your body and mind, and the results will take care of themselves.
"Just talking to the managers, the trainers, the nutritionists, everyone is saying the same thing across the board," Stokes said. "They trust what they see. They embrace a family culture, and they take care of their own."
Stokes must compete with a handful of other players in training camp — set to open in three weeks — to earn a roster spot with the Heat. A return to China or the G League are possibilities for his future, but so is a full-time job on an NBA roster.
Regardless of what his future holds, Stokes spent time away from the Heat focused and determined to improve his overall quality of life. Those close to him label his maturity and hard-working mentality as two standout qualities, and he'll try to bring both into training camp and beyond.
"Imagine if someone put a gun to your head and said you have five seconds to get away — that's how quick we have to move just to get to the rim, just to recover on weak-side defense," Stokes said. "And we're making million-dollar decisions at this speed. That's tough. If you can take something from that and put it to your off-the-court, your business, your lifestyle, even your wife, you can really succeed in life. But you have to conceptualize and be able to understand that you can do it.
"I'm just a humanitarian. I really do care for people, and I see what's going on around the world. There are some situations where something as small as words can change lives. And I've learned that because it's happened to me."