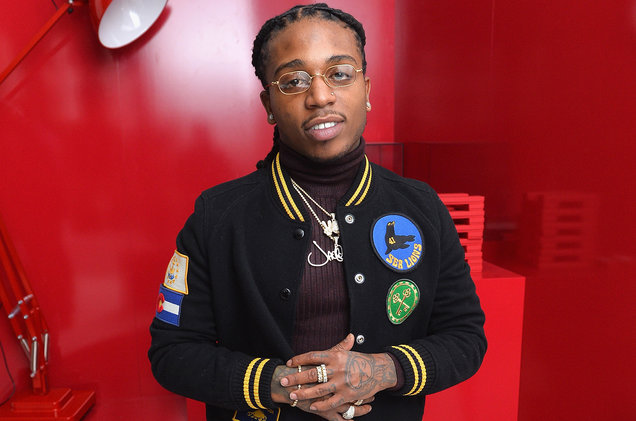 To say that a lot has been going on at Young Money Cash Money Records would be an understatement. Over the last week, Lil' Wayne has severed ties with label and earned an eight figure settlement from Universal Music Group. Meanwhile, Lil' Wayne's proteges, Drake and Nicki Minaj, have been releasing a lot of new music. Nicki Minaj released "Rich Sex" with Lil' Wayne and "Bed" featuring Ariana Grande. Drake put out his video for "I'm Upset", which came complete with cameos from the cast of Degrassi and he announced that his album will arrive on June 29th. There's also a few Lil' Twit dis tracks towards G.O.O.D Music floating around. In the midst of all of that, Jacquees has been steadily building the future of the label. The Louisiana native has released his debut album, 4275.
The R&B singer has delivered an eighteen track body of work that features the likes of LaTocha Scott, Jagged Edge, Dej Loaf, Trey Songz, Chris Brown and Young Thug. When speaking about the album, Jacquees said, "I've grown and learned a lot and you'll hear it all in my music. I've been in love, fell out of love and been in some really hard positions in life I've had to overcome. Overall, I just want people to know I put my heart and soul into this album. I've been working on it for four years, so shout out to everybody who put in time with me on making this album a classic."
Jacquees definitely put his heart and soul into this album and it shows on tracks like "All My Life", "Special" and his smash hit, "B.E.D". Check out the full album stream above.