The Houston Rockets have gotten off to a bumpy 6-7 start coming off a year in which they looked like the first real challenger to the Golden State Warriors in their current dynastic era, The frustratingly iso-heavy, yet wildly effective offense that propelled them to the Western Conference Finals last year has ground to a halt, checking in at 23rd in the league in terms of offensive efficiency. Meanwhile, the switch-happy defense with which they almost beat the Warriors has almost collapsed before their eyes. This left pretty much everyone almost immediately pointing at newly signed Carmelo Anthony as the sole reason for the rocky start.
On the surface, it kind of makes sense why. Melo's been nothing short of a shell of himself in his last two stints — Not only playing his expected brand of "meh" defense but oddly, seeming incapable of doing the one thing he's always done best: score. His efficiency as a scorer and decision-maker have absolutely cratered ever since leaving New York, hitting lows that he hadn't hit since his rookie season. He's made himself such an easy target that it honestly seemed reasonable that he'd be the reason for their pathetic performances.
But the truth about Houston this year is that the problems they've had weren't just Melo's fault. He was a fantastic scapegoat and he had a distinctly negative impact, sure, but the things that have caused Houston the biggest issues so far had almost nothing to do with him. Now that Melo seems to be on his way out, according to multiple reports, it's time for Houston to reckon with the underlying roots of their issues and figure out what to do about them.
Perhaps the most troubling aspect of their performance through the first month of the season is the apparent decline of Chris Paul. Coming off a pretty devastating hamstring injury in the Western Conference Finals last year, it seems as though Father Time is finally catching up to him. His raw production is in line with his career averages, but he's turning the ball over the ball more times per game than he has since 2008-2009. Also, his true shooting percentage is at a career-low 51.8 percent. It's possible he's just in a long slump, but for a 33-year-old point guard fresh off a major injury, who's never really kept himself in shape, a decline would be expected.
Unfortunately for the Houston Rockets, it doesn't seem like they ever really planned for the eventual CP3 decline. For the last two years, they've not only expected him to be as good as he always was, but they've expected him to be one of the core pillars of their offense and be able to routinely beat younger guys off the dribble. Worse yet, the role he played in transforming their defense last year doesn't seem like one he's going to be able to fill again this season.
It's no secret that Paul has been one of the best point guard defenders in the league ever since he entered it. Even though the will to be that good still exists, the athleticism that got him there appears to have left him. No longer does he look capable of locking down the other team's point guard even for small stretches of the game, let alone with the regularity he did it just last year. If what we're seeing is the real deal and not just an early-season aberration, the Rockets are going to have to figure out ways to compensate for the partial loss of one of the most important pieces of their team.
Chris Paul has just not been the same ya'll pic.twitter.com/Yhjks3LFfU

— Justin Jett (@JustinJett_) November 9, 2018
The problem here is that almost everyone around James Harden, Chris Paul, and Clint Capela has gotten noticeably worse since last season. The acquisitions of James Ennis III and Carmelo Anthony got the most attention early on–as they absolutely should have–but the Houston Rockets' overreliance on Eric Gordon, PJ Tucker, and Ennis is arguably the bigger story here. All three of them are high-end role players who can change games for you, but none of them are built for the kinds of roles in which they're playing right now.
Tucker is playing the seventh most minutes per game of anyone in the league and given his age and style of play, there's almost no way he's going to be able to maintain his impact throughout the year. On the other side, Gordon's been secretly one of the most ineffective players in the league: shooting just 32.3 percent from the field and an anemic 23.5 percent from three on a solid 8.5 attempts per game. His efficiency is probably going to get better as we make our way through the year, but the fact that he can't get anything going is really starting to hurt the Rockets.
Gordon is their only reliable scorer outside of Harden and Paul, and if he's not clicking, they don't have many options to turn to this season. For whatever reason, the Houston Rockets have essentially filled their roster to the brim with long athletes who can't do much more than knock down the occasional spot-up three. They need more shooters than they currently have now if they want their offense to succeed and get back to where it was.
The secret sauce to last year's wild offensive success in isolation was the fact that they had enough spacing for their creators to beat whoever was guarding them one on one and waltz to the rim. If the help came over when the defense was inevitably blown-by, either Paul, Harden, or Gordon could just whip the ball out to the perimeter for an open three which they usually knocked down. This year, however, is an entirely different story. The open lanes and clear passing outlets that the team's creators enjoyed last year seem to be all but gone right now.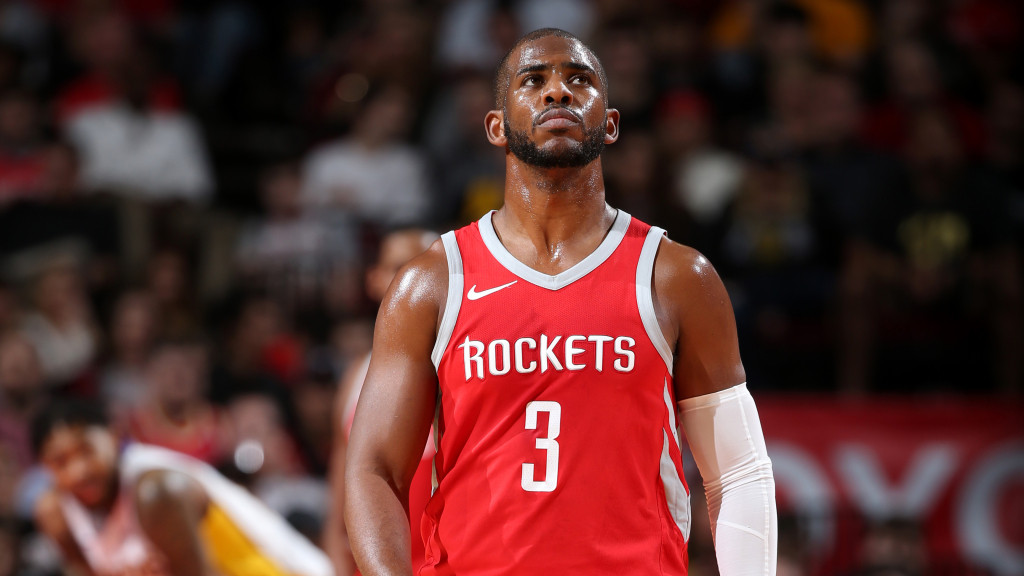 As a whole, the Rockets are shooting an eye-poppingly bad 32.9 percent from downtown and it's probably not going to get much better as the year goes on. Among their regular rotation players, only four guys have shot over 36 percent from the perimeter for their career and two of them are Paul and Harden. Because they just don't have any legitimate shooters spotting up from downtown and keeping the defense honest this year, it's cramping up the space for everyone involved.
Aside from cramping the team's spacing, the team has been entirely too reliant on Gordon to carry a significant load of the offense. A role for which he has proven to be unqualified. No matter how unqualified for the role he may be, however, Houston doesn't have much of a choice but to rely on him as the third option.
Even if their offense was humming at the level it was last year, it'd still be missing the vaunted defense that took the team to another level. Just a season after boasting a 105.6 defensive rating, which was good for seventh in the league, and at times shutting down the Golden State Warriors, the Rockets are currently sitting at an anemic 109.3, which is good for a mere 21st. And the problem doesn't really feel like a roster one. Yes, they lost Ariza and Mbah a Moute, but they arguably have more athletic and versatile defenders this year in Ennis and Michael Carter-Williams. Schematically, they have some kinks to work out before the playoffs come, but those are to be expected from a team that's still just getting used to each other.
The problem with Houston's defense might be one of just pure effort and mindset. Whereas last year everyone within the Houston Rockets' organization was bound together with the belief that they were good enough to beat the Warriors, that unity doesn't really seem to exist this season. Taking away all statistical analysis and Coach Nick-style commentary, the mood around this iteration of the Rockets is different. It feels like they're missing the confidence and relentlessness that took them to the heights they reached last year. That right there could be the reason that their defense looks so much worse just a year later.
Defense is almost entirely about effort and teamwork. They had both of those things in spades last year when the organization was bound by the common goal of reaching the Promised Land, but after they failed to do it–in the most heartbreaking way–the air's been let out of the arena. Everyone knows that last year was their best–and possibly only–shot at dethroning a dynasty.
Melo has been a Hall of Fame level scapegoat for basketball critics across the internet for the past few years, but the problems in Houston weren't entirely his fault. Now that he's gone, it's time for Darryl Morey and the rest of the Houston Rockets front office to take a long look at this team and figure out how to solve them.