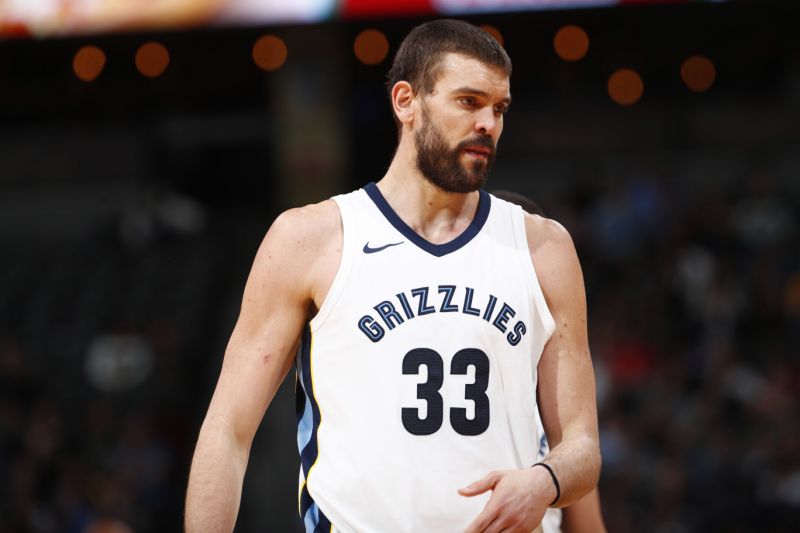 Though Marc Gasol is now headed north of the border to join the Toronto Raptors following a deadline-day trade, the relationship between him and the city of Memphis will always be a special one.
Gasol would play every season of his 11-year career in Memphis prior to being traded and served as an identity for the Grizzlies during his decade-plus stay there. To ensure Gasol gets the recognition and remembrance he deserves, Owner Robert Pera says the Grizzlies plan on retiring his #33 jersey. The team announced the news via their Twitter account.
"The impact @MarcGasol has had on this team and the city will live on, and we look forward to one day welcoming him back home to Memphis where his #33 jersey will hang in the rafters of FedExForum next to Zach and Tony." -Owner Robert Pera
Full Statement: https://t.co/XBPM83XAsB pic.twitter.com/N0k6dDvVQc

— Memphis Grizzlies (@memgrizz) February 8, 2019
Marc Gasol is now set to be the third Grizzly to have his jersey number retired, joining former teammates Zach Randolph and Tony Allen. Randolph and Allen were integral themselves during Memphis' "Grit & Grind" era, an identity cultivated by those two, Gasol and of course point guard Mike Conley.
While Allen was the superior defender and Randolph was a force on the interior, Gasol served as the foundation for Memphis' blue-collared defensive success in years past. Gasol remains a top-tier defender and worked as a perfect complement offensively as well to both Conley and Randolph.
This multi-faceted skillset is what Gasol hopes to bring to the table in Toronto as they make their push for the Eastern Conferece throne. Toronto is poised to be one of the true contenders in the East and adding Gasol to an already winning formula should bolster their chances that much more.
Gasol's numbers have dipped slightly this year, largely due to less involvement in the Grizzlies' offense. Still, Gasol is managing to post solid per-game numbers with averages of 15.7 points and 8.6 rebounds to go along with his typical splendid passing ability which he's parlayed into a career-high mark of 4.7 assists per game.