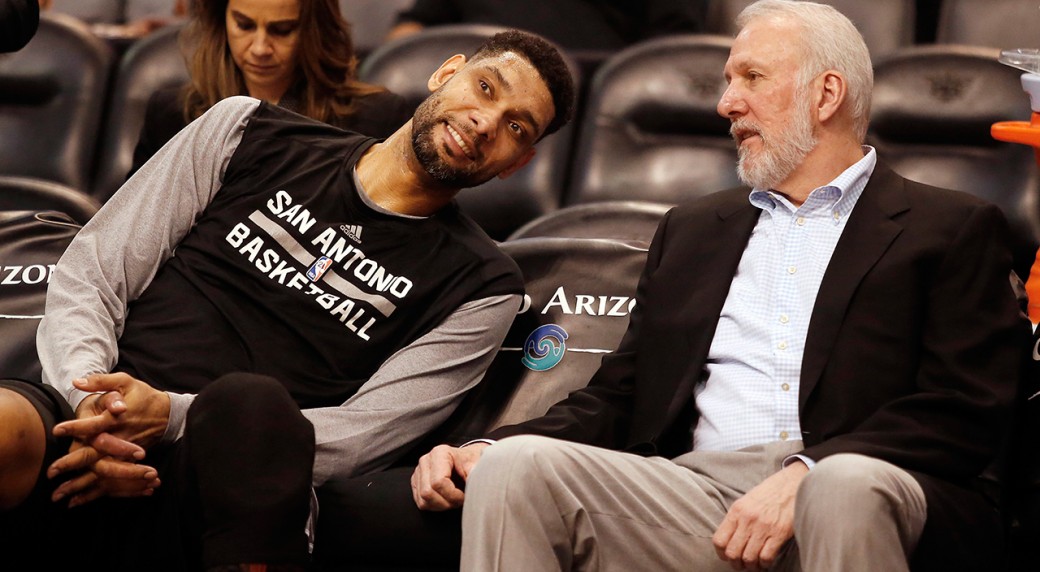 Gregg Popovich and Tim Duncan: Greatest intergenerational bromance of all time? Duncan retired in July, and Popovich is already missing him, according to ESPN's Michael C. Wright:
Spurs coach Gregg Popovich admitted Monday to feeling "a little bit lonely" having to lead the team into its first exhibition outing in 20 years without Tim Duncan on the roster.
It speaks to Duncan's immense value as a teammate that Popovich (and Kawhi Leonard) miss him so dearly despite the fact that Duncan has actually been hanging around the AT&T Center with the team:
TD at practice today ! #GoSpursGo @KSATRJ pic.twitter.com/O94wz57mCJ

— MarkMendez (@markmendez) September 28, 2016
Duncan is likely to have some sort of role on the Spurs going forward; he just can't stay away. As Popovich said, he's going to be the "coach of whatever he feels like".
Spurs general manager R.C. Buford told Wright the following:
"Where we're fortunate is he has such a presence here in our community," Buford said. "We hope this will be his home, and we'll continue to gain from his involvement as an organization, a team and a staff, and in all the areas he can impact."