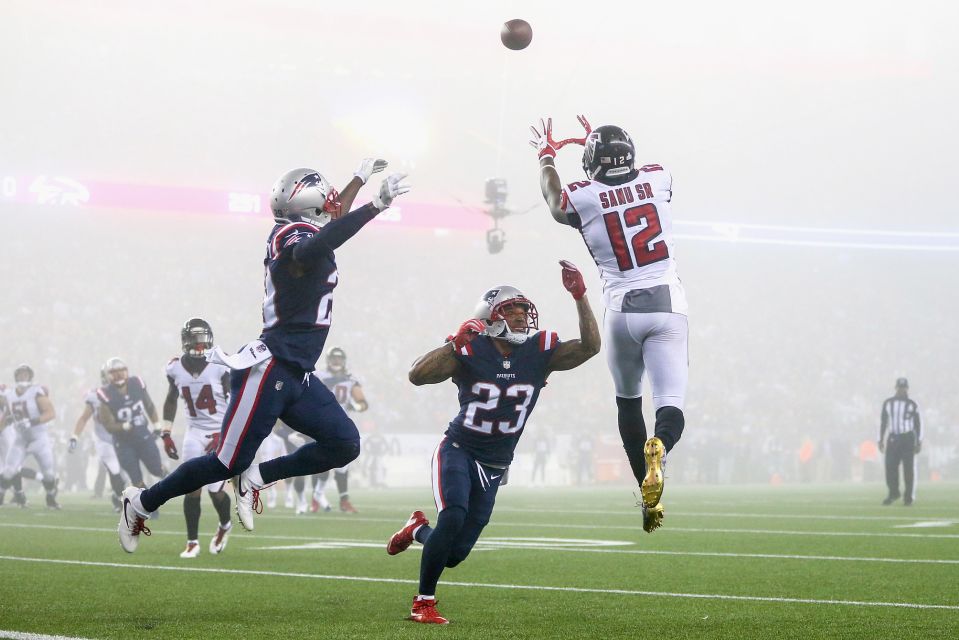 Wide receiver Mohamed Sanu is going from last place to first.
The New England Patriots (7-0) are acquiring Sanu for a second-round pick from the Atlanta Falcons (1-6), per ESPN's Adam Schefter.
Patriots needed more offensive help, period. They had been trying to trade for Mohamed Sanu since before the 2019 draft. As Atlanta's season continued to go south, Falcons began looking out long term while Patriots are upgrading for short term.

Sanu for a 2.

— Adam Schefter (@AdamSchefter) October 22, 2019
Sanu, 30, has 33 catches this season for 313 yards and a touchdown. He joins a receiving corps in New England that includes Julian Edelman, Josh Gordon, Phillip Dorsett, Jakobi Meyers, Gunner Olszewski, and first-round draft pick N'Keal Harry, who is currently on the IR but eligible to return to the field next week. Apparently, the Patriots have been looking to add a receiver since the ill-fated Antonio Brown experience.
WR Mohamed Sanu leaves behind dead cap hits of $3.87M & $1.4M to the #Falcons, bringing cash & cap figures of $3.7M & $6.5M to the #Patriots thru 2020.https://t.co/iyuJ7Z6nwa

— Spotrac (@spotrac) October 22, 2019
Prior to landing with the Patriots, Sanu had spent his first four seasons in the NFL with the Cincinnati Bengals. He then signed with the Atlanta Falcons, where he's been since the start of the 2016 season.
The receiver has 377 career receptions for an even 4,300 yards and 25 scores. He's also a career 7-8 for 233 yards and four touchdowns passing.
Durability has also been a  feather in Sanu's cap. Aside from his rookie season in 2012 – a season in which he played in nine games but ended the season on injured reserve – he's played in at least 15 games every season as a pro.