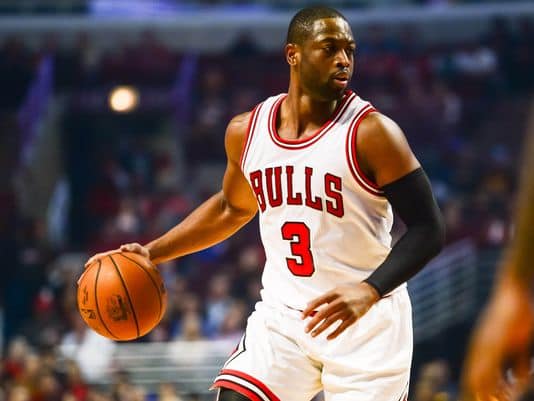 Seeing Kevin Durant don the Warrior's blue and gold is odd enough, but Dwyane Wade with "Bulls" on the front of his jersey may be the most wild sight. Wade made the difficult decision this past offseason to leave Miami for his hometown of Chicago, a surprise move. Wade talked about his sour ending with the Heat, but more and more details have leaked out about his exodus from South Beach.
However, in a podcast with The Vertical's Adrian Wojnarowski, Wade had a different tone. As transcribed from Barry Jackson of the Miami Herald, Wade outlines how the lack of communication played a key part in changing teams.
"At the end of the day, I didn't hear from the guy I needed to. I expressed this to him later. That right there hurt me. It showed me… it was time to remove myself from the situation…. It's a business. But I'm human as well. I was waiting for him to step up and meet me, call me, do something and it just never happened. That's not the Pat I know. You can find me quicker than anybody. You want to be wanted. Everyone wants to be wanted. I didn't feel like I was wanted from the person I wanted to be wanted from…. I was waiting for him to step up and meet me somewhere. Call me. Do something. It just never happened. That's not Pat. That's not the Pat I know."
Wade also felt that the Heat took Wade for granted. When James left for Cleveland, Miami gave Chris Bosh a max contract but Wade took a lesser contract. "That hurt me," Wade continued on the podcast. "I've spoken this to Pat. That really hurt me. That was the first moment where I felt I was taken for granted. I signed a shorter deal."
Dwyane Wade is one of the all-time great Miami Heat players, but his departure from South Beach will be a blemish. The full podcast with Wojnarowski can be found below. In addition to discussing his offseason, Wade talks about his relationship with longtime Heat teammate Udonis Haslem as well as what it means to return to his hometown of Chicago.