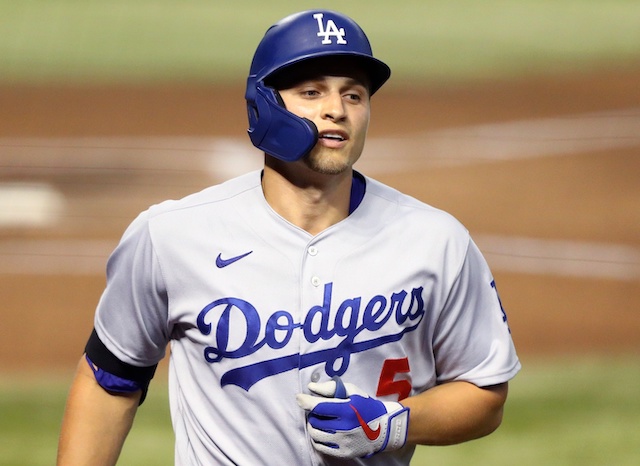 As the Los Angeles Dodgers celebrate their 2020 World Series victory over the Tampa Bay Rays and await more news on Justin Turner, who tested positive for COVID-19, some more good news came about. Dodgers shortstop Corey Seager was named as the Most Valuable Player (MVP) of the 2020 World Series after his incredible performance.
Corey raked all #Postseason long.

Your @Chevrolet #WorldSeriesMVP is @coreyseager_5! pic.twitter.com/00MndHK84P

— MLB (@MLB) October 28, 2020
Seager also won the NLCS MVP when the Dodgers overcame the Braves to advance to game seven. His 2020 postseason performance was unmatched, and he ultimately took home the 2020 World Series MVP award. Last season, Stephen Strasburg took home the 2019 World Series MVP award when his masterful pitching performance helped the Nationals win the World Series.
During the six games of the 2020 World Series, Seager would produce a .400/.556/.700 slash with two home runs and five RBI on his way to winning the MVP award. He would play 18 games total during the course of the 2020 MLB postseason, where he hit .328/.425/.746 while hitting eight home runs and accumulating 20 RBI. He also had twelve extra-base hits.
The Dodgers netted their seventh career World Series victory as Seager takes home the World Series MVP honors. Seager had an incredible 2020 postseason, and it was capped off with the World Series victory that the Dodgers brought home.
The hope should be that Seager and the Dodgers can stay healthy after the news about Turner's positive COVID-19 test should be a major cause for concern.