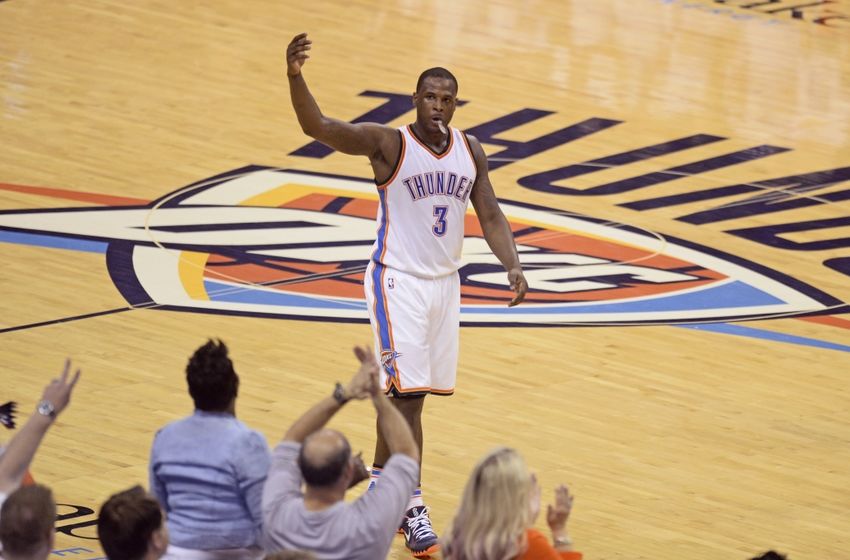 Dion Waiters made some small strides this past season with the Oklahoma City Thunder. The once troubled guard went through some personal highs and lows including the death of his brother. Dion made it through and he was important in the Thunder rotation.
Waiters was regulated to primarily a bench role this past season with the Thunder. In his NBA playoffs debut, he was an instrumental part in the Thunder's run to the Western Conference Finals. He did have one questionable moment against the San Antonio Spurs but Dion managed to survive along with his teammates.
Sure, his defense, shot selection and decision making is questionable at times but there has been a small growth in his game. Now, the 24-year-old faces a tough decision. Does he return to the Oklahoma City Thunder to make a title run or decide to leave town?
It appears that a trade during the NBA Draft has all but made that decision easy for Waiters. Victor Oladipo was sent to Oklahoma City in the Serge Ibaka trade and that could mean Dion's role will continue to be reduced. A reduced role could mean a trip home should be in the cards for Waiters. Otherwise known as 'Kobe Wade'.
Following from Michael Scotto of the AP & Sheridan Hoops.
The Philadelphia 76ers and Sacramento Kings have interest in Oklahoma City Thunder restricted free agent Dion Waiters, per league sources.

— Michael Scotto (@MikeAScotto) June 28, 2016
Dion will be a restricted free agent this summer and he reportedly was willing to return to the Thunder. This all came out before the Ibaka trade and the dramatic conference finals loss to the Warriors. Some things might have changed.
Last year, there were rumors aplenty over Waiters interest in joining the 76ers. A few months later and the Sixers have changed their franchise from top to bottom, all centered around Ben Simmons. Philly needs some shooters and Waiters has no problem putting up the ball. Him going back east to be with his family just makes sense.
Sacramento though, who knows. Seriously, this team is everywhere.