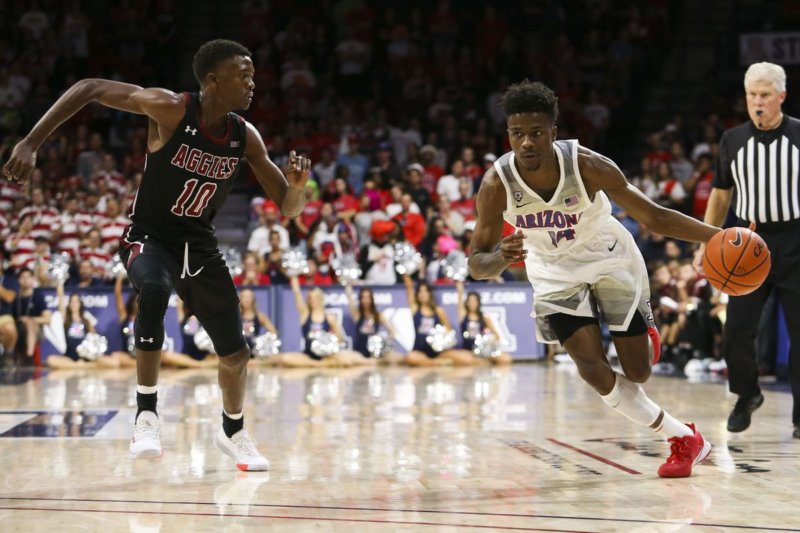 Arizona Wildcats head coach Sean Miller has announced that the team has dismissed sophomore guard Devonaire Doutrive for an unspecified violation of team rules. The highly ranked Wildcats lost a key rotation from their talented roster.
Arizona sophomore guard Devonaire Doutrive has been dismissed from the team for a violation of team rules per head coach Sean Miller pic.twitter.com/A5Jaz3ku8r

— Matt Moreno (@MattGOAZCATS) November 22, 2019
Head Coach Sean Miller released the following statement on the situation. "Effective immediately, Devonaire Doutrive has been dismissed from our men's basketball program for violation of team rules. He will continue to receive academic aid and support through the remainder of the current semester. We wish him well in the next steps of his academic and athletic career."
The Wildcats career was all over the place for Doutrive in a little over a year. He almost transferred away last May but decided to stay with the program about a month later. His time with the Wildcats has now come to a close and his future athletic career is unclear. He did have his moments with the team.
GAME WINNER ALERT ?@APlayersProgram secured the victory on a Devonaire Doutrive putback as time expired pic.twitter.com/zqttVXBVcD

— SI College Hoops (@si_ncaabb) March 1, 2019
The sophomore guard had only played three games this season but showed early improvement in his second year. He averaged 6.3 points, 3.3 rebounds, and 1.3 assists per game. He shot 42.9 percent from the field in those three games with the team. The team was hoping for him to provide a quality supporting role on the team this year, but it was not meant to be. There may be a transfer market for the guard this offseason with two years of eligibility remaining. His future is unclear at this moment.