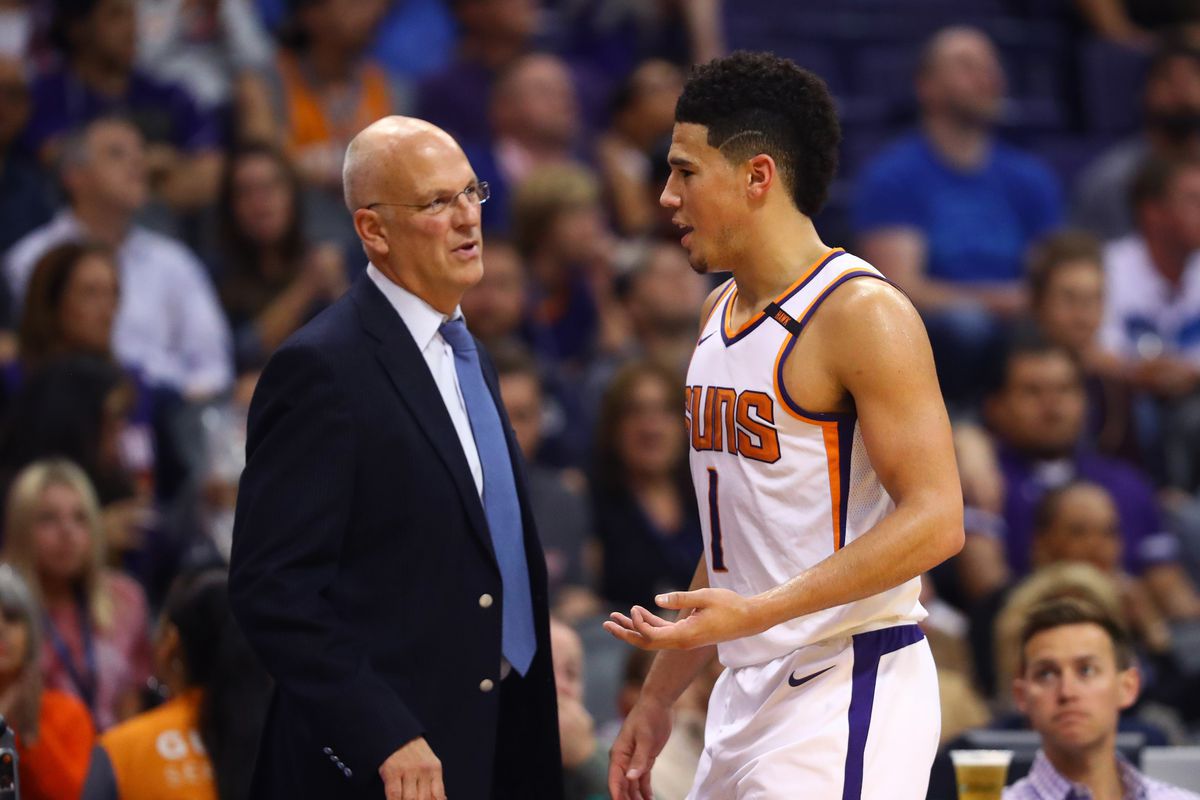 After a rocky start to their 2017-18 campaign, the Phoenix Suns have begun showing signs of promise as the season wears on. An early firing of head coach Earl Watson has propelled the Suns to play inspired basketball under interim head coach Jay Triano.
Though they have still only gone 14-20 under Triano, the dysfunction that was apparent after their 0-3 start seems to be long gone.
Members of the Suns organization are starting to notice the improvement as well, including guard Devin Booker who was a skeptic of the Watson firing in the first place. When asked about the job Triano has done and whether he should be at the helm permanently, Booker had nothing but positive things to say about his current head coach. Following from AZ Central:
"Me and Triano have that relationship. He's somebody I'm comfortable with and somebody I've been around for a long time," Booker said. "I love Triano. I don't make those calls but he's been doing a wonderful job since he's been here and I would vouch for him. He's been really good."

"I think we're in a lot of games," Booker said. "We're fighting hard and we're playing a full game. That's really important and Triano has been stressing that to us. He's giving a lot of players a lot of opportunities but he's also holding people accountable at the same time which we need."
Devin Booker isn't the only Sun who's approved of the strides the Suns have taken in these past months. 24-year-old center Alex Len also took the opportunity to shed some praise on Triano:
"I definitely love Jay and love playing for him," Len said.

"A couple of days ago we had a drill where we were playing five-on-five but you can't dribble the ball," Len said. "So you had to move the ball, cut hard and get open quick. Jay is always putting in new things. He's very creative offensively.

"It's not that we're even better from the first three games," Len added. "We're better than we were a couple of weeks ago. He's doing a great job."
There's no doubt that what both Len and Booker have to say about Jay Triano has some merit to it. Though 14-20 is still a far mark from their end goal, this young Suns team is gaining steam and have earned a victory in 5 of their last 7 outings.