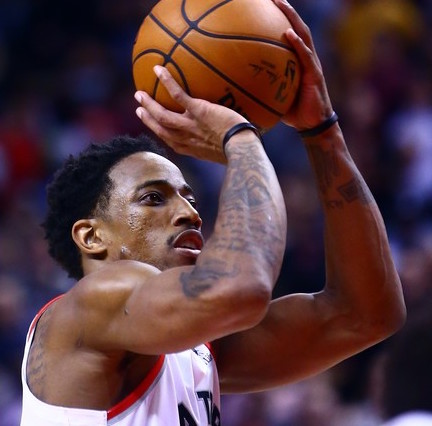 "This depression get the best of me."
These words, tweeted by Toronto Raptors star DeMar DeRozan on Feb. 17, caught the world off guard. It was the Saturday of All-Star weekend, and DeRozan was supposed to be enjoying his time in Los Angeles with his fellow All-Stars. Instead, here he was. Three o'clock in the morning local time. In the midst of a bout with his depression.
DeRozan spoke with Doug Smith of the Toronto Star about the tweet:
"It's one of them things that no matter how indestructible we look like we are, we're all human at the end of the day," the 28-year-old Raptors all-star said. "We all got feelings . . . all of that. Sometimes . . . it gets the best of you, where times everything in the whole world's on top of you."
…
"I always have various nights," he said in a wide-ranging and wildly open glimpse into his private life. "I've always been like that since I was young, but I think that's where my demeanour comes from.
"I'm so quiet, if you don't know me. I stay standoffish in a sense, in my own personal space, to be able to cope with whatever it is you've got to cope with."
Many brush off the issues that athletes deal with, the immense pressure that they're under, because of how wealthy they are. This is an oversimplified and foolish way to look at things; money doesn't fix everything, and many of these players were faced with horrible, scarring things before they had it.
"This is real stuff," he said. "We're all human at the end of the day. That's why I look at every person I encounter the same way. I don't care who you are. You can be the smallest person off the street or you could be the biggest person in the world, I'm going to treat everybody the same, with respect.
"My mom always told me: Never make fun of anybody because you never know what that person is going through. Ever since I was a kid, I never did. I never did. I don't care what shape, form, ethnicity, nothing. I treat everybody the same. You never know.
DeRozan certainly saw his fair share of horrors growing up in impoverished Compton.

"I had friends that I thought was perfectly fine, next thing you know they're a drug addict and can't remember yesterday . . . I never had a drink in my life because I grew up seeing so many people drinking their life away to suppress the (troubles) they were going through, you know what I mean?"
DeRozan told the Star that he isn't ashamed of the depression he's battled:
"It's not nothing I'm against or ashamed of. Now, at my age, I understand how many people go through it. Even if it's just somebody can look at it like, 'He goes through it and he's still out there being successful and doing this,' I'm OK with that."
This story is particularly relevant right now, as Michele Roberts, executive director of the National Basketball Players Association, said on Feb. 19 that the NBA and NBPA will devote resources to a mental wellness program for players.