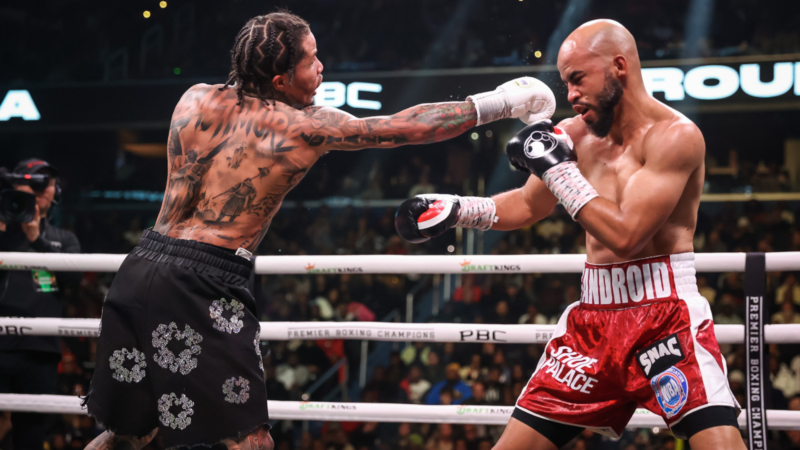 Dmitry Bivol may have been awarded "Fighter of the Year" honors from most publications in 2022, but Héctor Luis García was a close second-place finisher. Last year, the Dominican fighter not only upset previously undefeated prospect Chris Colbert, but he also grabbed the WBA Super Featherweight Championship from Roger Gutiérrez. In 2023, Garcia had plans to take his upset-minded ways to the next level against WBA "Regular" Lightweight Champion Gervonta "Tank" Davis.
"Now, this is an opportunity for me to elevate myself after a long career that has seen me succeed plenty," García said.
"These are the kind of fights that I truly need right now. Gervonta, we are working 100% towards giving fans a war. We are both here, and I am ready to prove why I'm here and why I got the chance to face off against you,"
When fight night rolled around, García was excited and ready to go. However, his opponent, Gervonta "Tank" Davis, proved to be too much for the previously undefeated champion. The Baltimore, Maryland native landed 53% of his power shots en route to a ninth-round stoppage of the WBA Super Featherweight Champion.
"Tank did that! Man, Garcia was sturdy as hell! What a great fight," undisputed middleweight champion Claressa Shields commented.
"Davis [is] the GOAT," unified super featherweight champion Alycia Baumgardner tweeted.
Not only were fans commenting on social media, Maryland Governor-Elect Wes Moore, Washington Wizards Guard Bradley Beal, Meek Mill, Lil' Baby and Meek Mill were also in attendance to see Davis grab another win. Having moved past Héctor García on Saturday, the Baltimore native has his sights set on another fighter with the same surname. Prior to this weekend's showdown, Ryan Garcia and Gervonta "Tank" Davis reached a verbal agreement for a 136-pound catchweight fight in Las Vegas, Nevada on April 15, 2023. If Davis avoids any significant legal trouble in a pending hit-and-run case next month, all parties involved expect the fight to move forward as planned later this year. Excited about the bout, Ryan Garcia took to Twitter to share a quick prediction.
"Ryan Garcia will knock Gervonta Davis out," Jake Paul tweeted.
Goodbye Tank, [it] is over for you," Ryan Garcia wrote.
Davis wasted no time replying to both Paul and Garcia. During a post-fight presser, the undefeated fighter called both Paul and Garcia "clowns."
"Jake Paul is a clown and Ryan is a baby clown. Tell him to get ready," he said.