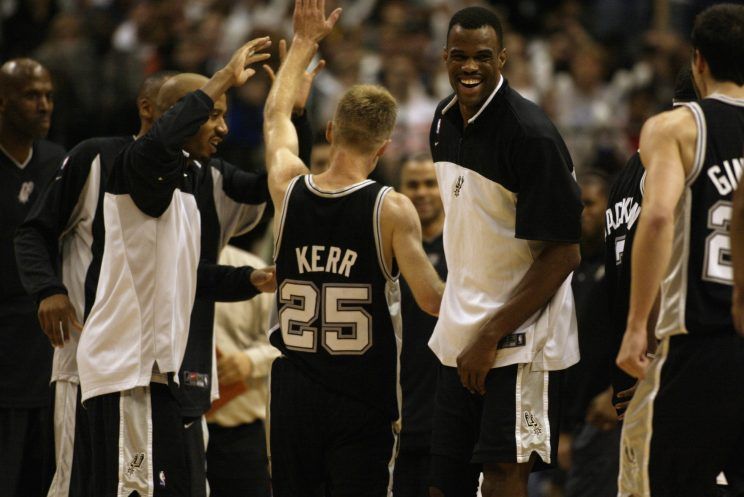 The Golden State Warriors will enter the 2016-17 season as the clear favorites. Kevin Durant is joining a team that won 73 games last season. The Warriors lost a few role players in their quest to sign Durant but ultimately kept their core together. After a monumental upset in the Finals at the hands of the Cleveland Cavaliers, the Dubs are ready to retake the mantle as the best team in the league.
Everything is not set in stone, however. The Warriors were almost universally expected to win the championship last year before blowing a 3-1 lead in the Finals. The point is: things change.
David Robinson is taking it upon himself to warn the Dubs of that fact. The legendary San Antonio Spur spoke with Zach Frydenlund of Complex and warned the Warriors of their short window to win a championship:
"It takes time, you look at what happened with LeBron, Wade, and Bosh. It took them a year or two to get their legs underneath them and figure things out and even then that run was relatively short," he mentioned. "So if you're able to put together a team like this, you're generally going to have a short window because you can't pay all those guys to keep them together. There's the short window that's going to end relatively quickly and it's not as easy as going out to play."

In particular, Robinson brought up the Warriors losing a few key role players this summer in the pursuit of Durant, which might mess with chemistry early on. "It's not that easy and people can say what they want to say, but it's still up in the air," he said. "Nobody thought Cleveland would win the championship this year. There were four teams in the West they said they couldn't beat and they were down 3-1 and they came back and won so you just never know. You can't write the script."
Robinson is largely correct but there are a few circumstances that differ between this "super team" and those of the past. Durant is the one new major addition to a core that has played together for years. Incorporating one new player, no matter how much of a high-usage player he is, is much easier than creating an entirely new core like the Heat did.
Even if the Warriors have lost some role players, they have added more capable ones to replace them. Chemistry may be an issue to start, but they signed Kevin freaking Durant.
As for the short title window, however, David Robinson is certainly correct. The Warriors now have four max-level players on their team. If not for Stephen Curry's now comically small contract, they would not have been able to sign Durant in the first place.
As the Warriors' players become free agents in the coming years, the front office will have to make decisions. At some point they may need to move on from a key piece in order to continue what they hope will be a dynasty.
For now, however, the Warriors will focus on the present. They have the most talented core in the NBA and barring unforeseen circumstances will almost certainly win the title. After that, they can begin to heed Robinson's warnings.