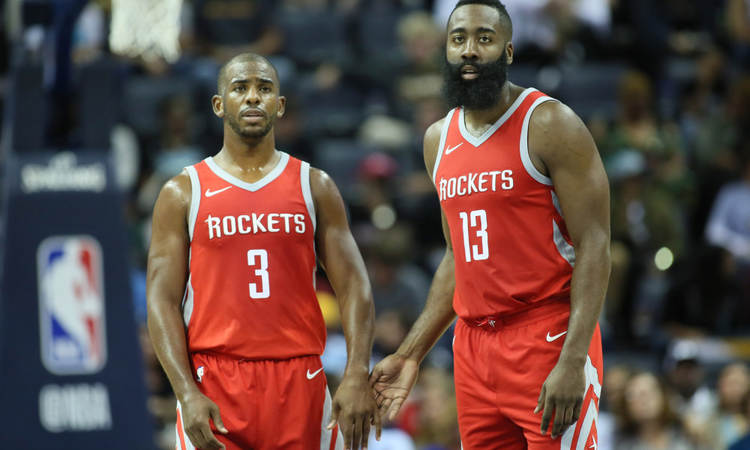 After the Houston Rockets went out and swung a trade for superstar point guard Chris Paul, a lot was made of his dynamic with centerpiece James Harden. Both are ball dominant guards and rank as two of the better floor generals in the entire NBA, capable of spurring a high-powered offense.
Mike D'Antoni is the head coach that would have to take on the daunting task of figuring out how the two were going to be compatible and when to deploy each guard. If last night's victory over the Golden State Warriors was any indication, D'Antoni already has a plan he's sticking with and though a small sample size, it worked effectively. D'Antoni told ESPN's Jackie MacMullan about his guard rotation:
Meanwhile, D'Antoni hauled Paul and Harden into his office and laid out the specifics of their workload. Paul will log 32 to 33 minutes and Harden 34 minutes a night…

Paul will come out of the game after five minutes of the first quarter, earlier than at any other point in his career. Harden, who prefers to play the entire first quarter, will now have to take a seat with two and a half or three minutes left. By D'Antoni's estimation, Paul and Harden will play 18 minutes together, including the final five of every game.
Summed up himself, D'Antoni worded his plans as simple as possible.
"I will have a Hall of Fame point guard on the floor at all times, I promise you that"
Having one of either Chris Paul or James Harden in at all times will allow for this offensive juggernaut to continue operating like a well-oiled machine even when Harden takes a seat, something that couldn't be said last year.
The whole point of bringing CP3 in in the first place was to allow Harden to shed some of the immense offensive burden he carried last year. With D'Antoni's staggering strategy in place, we could see this Rockets team put up even more points than last year.